Cognizant Softvision Participates in ApexVox
ApexVox is a FREE .NET conference in Romania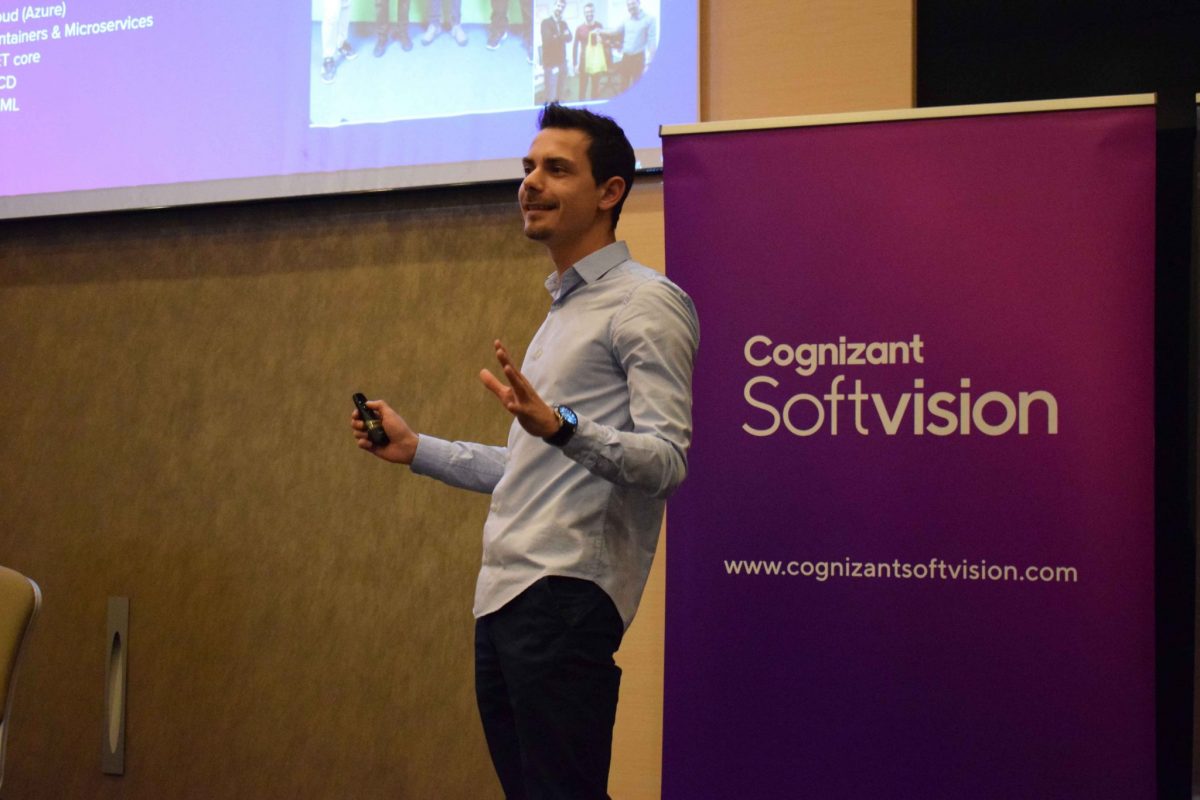 Cognizant Softvision was a Platinum Partner at ApexVox – a .NET Conference in Romania, that took place in Cluj-Napoca, Romania at the Golden Tulip Ana Dome Hotel. The event, held on November 2nd, also featured a series of workshops throughout the conference, which ended on November 5th.
ApexVox organizers says that one of the biggest challenges for the .NET community in Romania is to keep up with the new wave of technologies (.NET Core, Cloud, AI, IoT, Xamarin, Unity). The ApexVox .NET conference serves as a synergy point – reflecting the enthusiasm of .NET community members.
ApexVox 2.0 – a .NET conference in Romania
On the day of the conference, Softvisioner, Victor Lupaescu, Big Data & DevOps Community Manager from the Cluj-Napoca studio, shared insights about our communities, and what defines Cognizant Softvision as a digital transformation company, followed by the tech session, "Introduction to Microsoft Bot Framework" with Mihai Muresan, .NET Lead Engineer, and Andrea Fazakas, .NET Engineer. 
Watch this video with highlights from the conference day:
Introduction to Microsoft Bot Framework
Mihai and Andrea were given the opportunity to present the talk 'Introduction to Microsoft Bot Framework'. During this time they discussed the importance of bots and the benefits they currently bring and could bring to us in the future, as well as showcasing the basics of how to build a chat bot with the Microsoft Bot Framework. Towards the end of the presentation,  the audience had various questions, which Mihai and Andrea happily discussed. 
When asked how the speaking experience was, Andrea told us, "Participating as speakers at the Apex Vox conference has given us the occasion to work both on our technical skills and presentation skills. Also, we've been able to meet new people in the IT industry with whom we shared ideas and opinions. Overall it was a great experience where we have learned new and interesting things and met passionate and like-minded people."
According to the event organizers, "ApexVox brings the .NET community in Romania together for a one day, in-depth knowledge transfer and unmatched networking opportunities. A great line-up of international speakers, authors, Microsoft RD (Regional Directors), Microsoft MVPs (Most Valuable Professionals) and technology specialists talk about the latest technologies and trends in .NET and Microsoft Azure."
We were happy to participate and look forward to next year's event!