Cognizant Softvision – Main Partner at DevCon Live 2020 | November 3-28, 2020
Cognizant Softvision brings innovation to the largest virtual hub for tech professionals at DevCon Live 2020!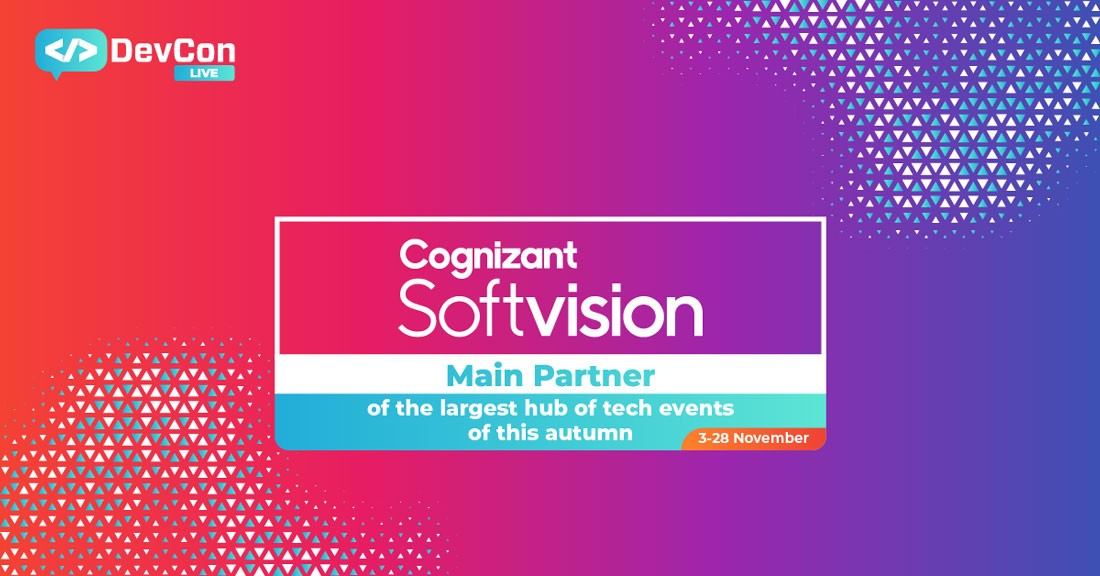 We love to get involved in our local tech communities, and this autumn Cognizant Softvision participates in DevCon Live 2020 as the main partner. Our exceptional speakers from Java, JavaScript and Web & Mobile communities will hold technical webinars and masterclasses that you won't want to miss! 
We will also host a virtual booth, where technical experts will answer questions from participants interested in state-of-the-art technology, projects and leadership, as well as career opportunities. We are actively recruiting middle and senior specialists focusing on technologies such as Java, JavaScript and DevOps to join our nearly 2,000 colleagues across five cities: Bucharest, Cluj-Napoca, Timișoara, Iași and Baia Mare.  This is a fantastic opportunity to talk to our colleagues.
Inspired by DevTalks Reimagined, the first and largest online technical expo-conference in Romania, DevCon Live transforms into a technology hub in November, with four weeks full of content on topics such as Java, JavaScript, Web & Mobile and Cybersecurity.
Each week at DevCon there is a technical agenda with a dedicated conference, masterclasses, workshops, hackathons, special events, an expo area with virtual stands and many interactive activities – all designed to bring the best learning and networking experience to the IT community in Romania and beyond.
Our speakers are thrilled to be joining the event. Be sure to register for  their amazing talks:
Vlad Cârcu, Java Developer | Java Week, November 3, 10:50AM
Vlad has worked as a Java developer for the past 12 years, five of which he spent in various tech lead or team lead positions, managing teams of up to five people. He has been involved in both maintenance and greenfield projects and has led teams both locally and remotely. Currently, Vlad is also an influencer in the Cognizant Softvision Enterprise Coffee Community, involved in sharing knowledge and developing talent.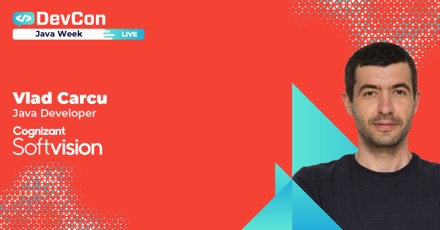 Vlad will present "API First vs. Code First: The 'why's and 'how's using Swagger, Spectral and openapi-generator-maven-plugin." The goal of his presentation is to make API first easier to adopt. To accomplish this, he'll compare API first to Code first, on multiple dimensions, like ease of use and impact in the project. By the end attendees will have recommendations on when to use each of them. All the information will be backed by examples, and the respective code will be available on github.
Mihai Ureche, Web Community Lead | JavaScript Week, November 10, 10:50AM
Mihai Ureche, a Full Stack Developer with 12 years of experience and passionate Sci-Fi movie-lover, is part of Cognizant Softvision's Full Stack Web Community, helping colleagues improve their technical and soft skills.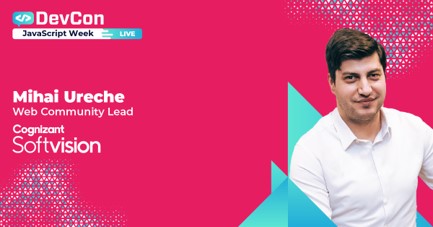 Mihai's talk, "Microfrontends – ReactJS & Angular," will give attendees the opportunity to learn about micro frontends and how these can help the development process. He will also cover how micro frontends could be implemented using React or Angular.
Radu Marin, Android Community Lead and Alexandru Gherghina, Android Team Lead | Web and Mobile Week, November 17, 10:30AM

Radu and Alexandru's discussion, "Building your own Jetpack," takes an interactive approach for discovering the ins and outs of the Android Jetpack ViewModel, and explores how it was constructed, how to do it yourself, and how it should be properly used in practice. The discussion will switch between theory and practice to better understand the subtle details around Android ViewModels, while sprinkling in some best practices that should take Android development skills to the next level.
DevCon Live 2020
When: November 3-28, 2020
Where: Online by registering