Cognizant Softvision Honored Twice at the 2021 Romanian Business Services Awards Gala
Cognizant Softvision won the Best Workplace and the Best Employee Engagement awards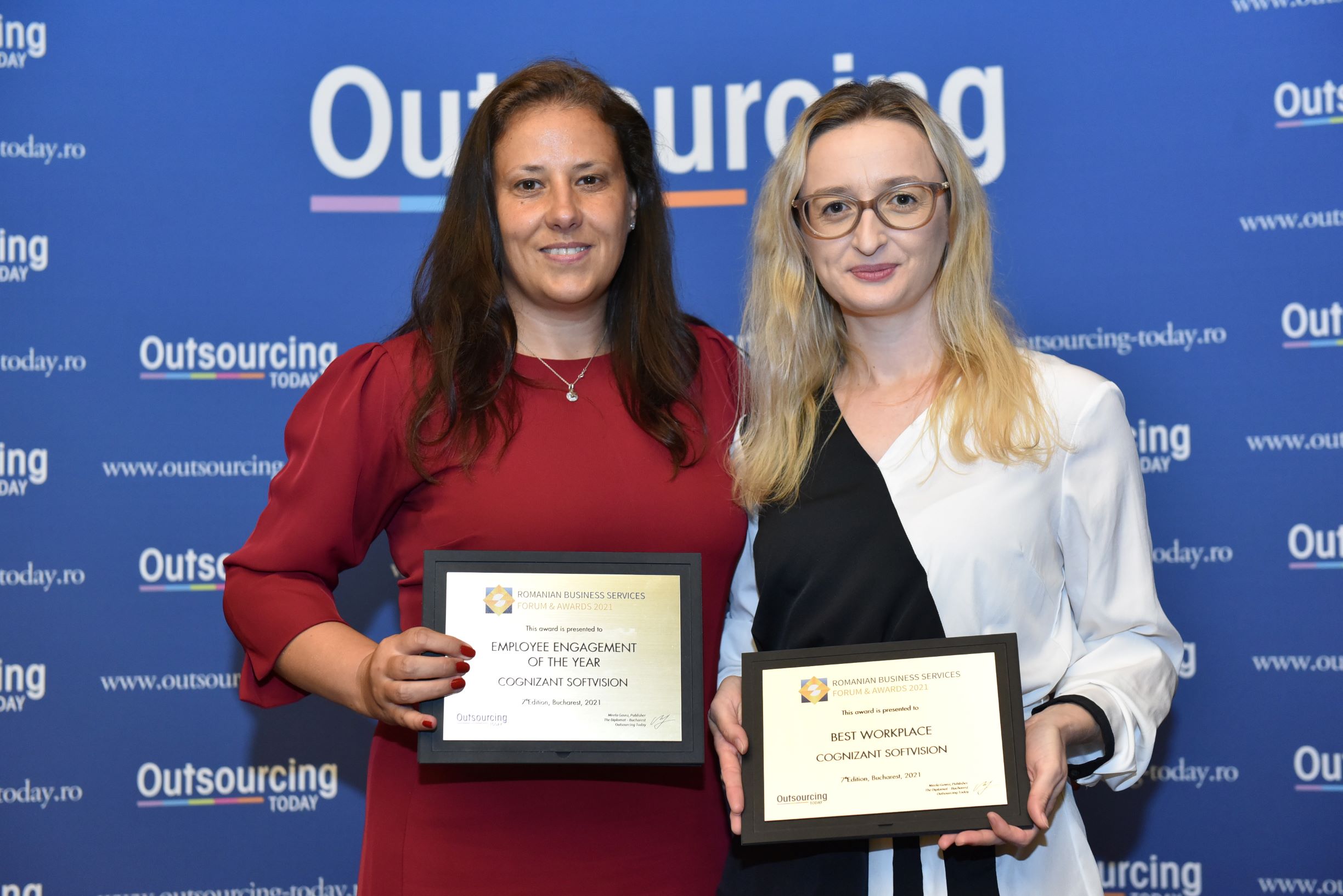 This week's 2021 Romanian Business Services Awards Gala honored Cognizant Softvision with two outstanding prizes. Outsourcing Today organized the 7th Annual Romanian Business Services Awards Forum & Gala on May 25 at the InterContinental Hotel Bucharest. The ceremony recognized and celebrated some of the most prominent Romanian companies in the Outsourcing – BPO, ITO, and SSC industry. Cognizant Softvision was awarded the following two awards:
Best Workplace

for our work culture, the implementation of the Employee Value Propositions "The Place To Be, Now & Beyond" and "Challenges Keep Us Connected Despite Covid-19" 

Employee Engagement of the Year

for our Work From Home Journey, Programmers' Week, and all of our engaging activities
Congratulations to all of the winners! You can access a full recording of the Awards Gala event here. 
Cognizant Softvision enjoys a unique team structure with the formation of Pods and Guilds. Pods are agile account delivery teams who often sit onsite with clients, working collaboratively together. Pods are capable of training legacy staff on the latest technology and development issues. Guilds represent special areas of technology focus, such as Product Delivery, Digital Architecture, Mobile, etc. The Pods and Guilds model was developed to not just provide structure to the local Romanian studios, but also create a framework that would enable the Romanian business to scale, particularly after the acquisition by Cognizant in late 2018.
The company is committed to advancing and promoting diversity, particularly women. Cognizant Softvision has celebrated International Women's Day and International Women in Engineering Day, specifically highlighting women in engineering roles, while calling on the industry to do more to recruit and train women for more engineering positions. 
 Best Workplace
Cognizant Softvision has always enjoyed a vibrant culture across its 40 global studios. In March of 2020, the entire organization and thousands of employees went to a remote environment in less than 48 hours to adhere to 'Shelter in Place' rules associated with the global pandemic. 
Cognizant Softvision, like many organizations, was faced with a daunting challenge: How to maintain its unique collaborative and team-oriented culture when everyone is operating in a distributed environment from home? The company sprang into action with "Challenges Keep Us Connected," a campaign of online events and activities.  
The campaign began with the 'Wash Your Hands' challenge, a fun way to stay healthy throughout the pandemic and to remind everyone to do their part to keep coronavirus transmissions low. That led to other challenges, including the Motivational T-Shirt challenge, and challenges related to pets, recipes, and cooking skills, and even singing capabilities. The song challenge brought together different voices and musical instrument capabilities within the company to re-record Coldplay's Viva La Vida. Voices and guitars and drums, and even piano-playing from CEO Andres Angelani, helped create their own music video. 
Employee Engagement Initiative of the year
While the global pandemic has proved to be a difficult time, our colleagues' experience and safety are extremely important to us! Like the rest of the world, we adapted to our new reality, and successfully implemented a new Work From Home Journey that largely involved changing the way we work. This has allowed us to collaborate remotely and still remain closely aligned. 
Firstly, we've emphasized the health and safety of everyone at Cognizant Softvision, which has been and continues to be our top priority. The last 12 months have shown us that together we are a strong team, in continuous development, regardless of the situation. We have taken into account everyone's feedback and we have constantly and carefully analyzed the entire global and national context, in order to offer the best work experience at home.
This new working model from a flexible location offers employment opportunities to all specialists in Romania, by eliminating any limitations related to travel time or other logistical, geographical challenges.
We've shifted from face-to-face meetings and events to virtual events, hosting a very successful exclusively online Programmers' Week, with 53 external tech talks – 1500+ attendees and 83 internal tech talks with 1800+ attendees, along with other 66 exciting webinars that have kept us connected and engaged! We had 696 communities tech talks and local meetups, 2 community podcasts, 30 study groups and 27 speakers at external events.
Whether we are at our Studios or at Home, we are all about Community. #StayAtHome and make a difference! We're all in this together. "Ședeți blânzi acasă!" We created a campaign in which we supported staying at home through this video and a campaign to support washing your hands, through our #CSVstaysafe hashtag. 
We organised a lot of internal challenges to keep connected in the pandemic like cooking challenge, DIY Projects, Motivational Tshirt, In Green, Dance Day, Earth Day, Stay Fit, Virtual Halloween, Fridge Magnets, Face Mask, Many Voices One Song, KeepieUppiesChallenge, Breast Cancer Awareness, Movember. A particularly special campaign was Women Engineering Day, by doing a photo shooting through Zoom and we closed last year with an Online Holiday Party.  
In an effort to showcase our gratitude to every one of our Romanian collaborators, a team of 60 people gathered up and started working on an amazing WFH Journey Kit: more than 2000 hand made gift boxes, throughout five different cities. The team took over our Studios and gave life to this initiative in order to deliver a beautiful experience to our 2.000 Romanian Softvisioners. A journey by definition is a trip over a long period or a great distance. A work from home journey is, well… a whole new experience that deserves to be celebrated with a delightful kit fulfilled with goodies for all our colleagues in Romania. This is our "new normal" and our expression of making every day "The Place To Be Now & Beyond". You can see the highlights here.
We adapted the way we're celebrating our milestones, that were usually celebrated at the Studio, while working from home by being together online, as one team, fueled by hard work, dedication and fun times like enjoying cake, for each city in which we have Studios, like Timisoara, Bucharest, Iasi, and for our 2000 Softvisioners in Romania anniversary.  
The new concept of flexible work is built on a foundation of trust, the need for freedom, the balance between professional and personal life. This initiative supports the employer brand "The Place To Be Now & Beyond" that we launched in the pandemic. 
About The Awards Gala
The Awards Gala was preceded by the CEO Forum where Mihai Constandis, our Romania Country Manager and Head of Eastern Europe Studios at Cognizant Softvision, was a guest speaker in the panel titled "CEO Leaders Debate: The Leaders' Voice in the Reshaped Business Landscape." You can access a full recording of the forum debate here. 
Now in its seventh year, this awards gala is both an elite event and a platform to recognize, reward, and celebrate the success of the most prominent companies, projects, and individuals acting in Romania's business shared services field. Based on rigorously researched information and a Judging Panel formed of well-known names in the industry, the Gala Awards established itself as a must-attend in your Romanian Gala Awards event calendar.