Cognizant Softvision joins GoTech World, the largest online business event in central and eastern Europe. GoTechWorld includes eight content tracks, 70+ different agenda sessions and 80+ international and local leading minds in tech. The online gathering will take place this November 11-12. 
Be sure to tune into the Java stage opening speech by Mihai Constandis, Cognizant Softvision Country Manager and Head of Romania Studios on November 11, starting at 10:15am.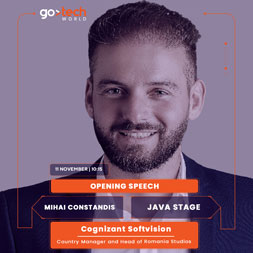 Another Cognizant Softvision expert, Răzvan Prichici, joins the Java stage with an exceptional tech talk. Răzvan, Java Technical Lead in our Cluj-Napoca studio, is an experienced, hands-on software architect focused on the architecture, design, implementation of microservices, cloud services and distributed systems. He works everyday on solving hard business problems with cutting-edge technologies.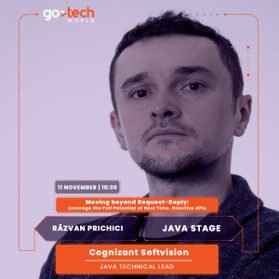 Răzvan's speech is titled, "Moving beyond Request-Reply: Leverage the Full Potential of Real Time, Reactive APIs." When you think of web APIs, you usually associate the communication model with RESTful requests and responses. This certainly makes sense in many cases, but what if there are complex queries on the client side that cannot be easily represented using simple "resources?" How do you deal with long-running actions on the server that the client does not want to wait to process? And does it always have to be client-side "pull" or does server-side "push" via WebSocket make more sense in some applications? 
Based on selected practical use cases, the session shows how different patterns can be used to sensibly expand the classic RESTful request / response model of your web API, and thus come to significantly more elegant and powerful solutions.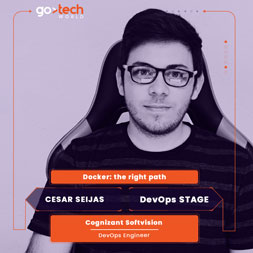 On the DevOps stage, we will welcome Cesar Seijas, DevOps Engineer. Cesar will be presenting "Docker: the Right Path," a reliable way to learn and teach how to start with Docker and how to continue evolving in this technology.
Cesar enjoys helping organizations find the best approaches in DevOps culture and practices; their focus is the knowledge transfer to different departments connecting them to a common objective. Specialized in Microsoft Azure Cloud, DevOps good practices, and containerized applications.
GoTech World
When: November 11-12, 2020
Where: Online