Cognizant Named a Leader in Everest Group's PEAK Matrix® for Software Product Engineering Services 2021
Cognizant's capability enhancement through skill-development, strong inorganic growth and balanced delivery footprint cited in New PEAK Matrix® Assessment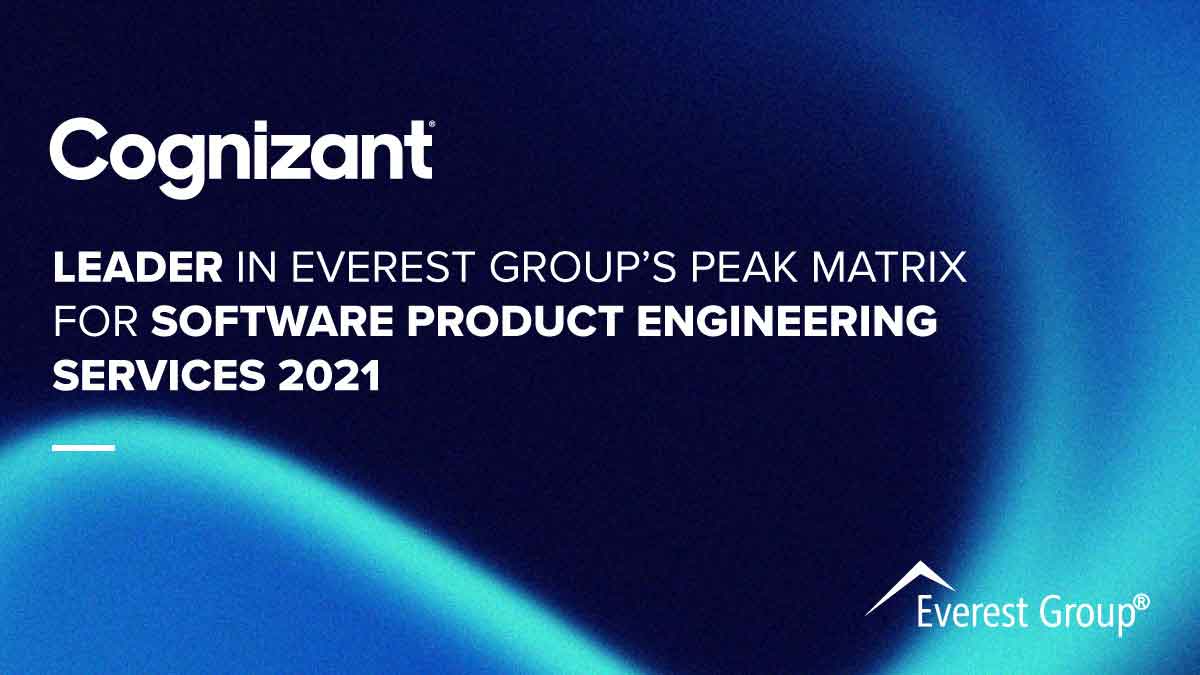 TEANECK, NJ – June 16, 2021 – Cognizant (Nasdaq: CTSH) announced today it has been named a leader in Everest Group's PEAK Matrix® for Software Product Engineering Services 2021 report.
According to Everest Group, Cognizant is positioned as an industry Leader in terms of market impact and vision and capability. The 2021 report specifically stressed Cognizant's balance for seamless delivery that's in close proximity to all major client geographies, along with its ability to grow via acquisition and expand its product footprint and offerings.
Everest Group highlighted the following Cognizant strengths:
Focused investments on capability building and talent development initiatives

such as formation of pods, guilds and communities
Balanced delivery footprint for client proximity and seamless delivery, enabled by

a robust network of studios across all major geographies
Strong inorganic growth owing to several acquisitions that have helped enhance

software product engineering competencies across industries
"Global disruptions have inspired companies to rethink their business and go-to-market strategies, while also enabling them to rethink the role that software product engineering plays in helping them achieve long-term development and growth," said Andres Angelani, CEO, Cognizant Softvision. "We're grateful for the recognition by Everest Group as a leading provider of software product engineering services, and remain focused on superior software delivery and talent development that helps our clients transform their business and their relationship with customers."
"Cognizant differentiates itself in this hypercompetitive space through its global network of studios, pods-based delivery methodology, innovation focus, and targeted investments in infrastructure and IP," said Akshat Vaid, Vice President, Engineering Services, Everest Group.
"The company has a strategic vision to collaborate with clients and partners for joint offerings and associated go-to-market motions. Additionally, the acquisition of Tin Roof and Magenic have helped the company broaden its service portfolio and delivery footprint. Cognizant stands out for its focus on capability enhancement through skill-development initiatives and capability-augmenting partnerships with digital majors."
The Everest Group report focuses on engineering services related to the development, testing and maintenance of software products, such as commercial off-the-shelf products for enterprises or customer-facing software/portals/applications meant for revenue generation or service delivery. Everest Group assessed 31 service providers for capabilities on software product engineering services based on their market success and delivery capability.
About Cognizant
Cognizant (Nasdaq-100: CTSH) is one of the world's leading professional services companies, transforming clients' business, operating and technology models for the digital era. Our unique industry-based, consultative approach helps clients envision, build and run more innovative and efficient businesses. Headquartered in the US, Cognizant is ranked 185 on the Fortune 500 and is consistently listed among the most admired companies in the world. Learn how Cognizant helps clients lead with digital at www.cognizant.com or follow us @Cognizant.