When I joined Cognizant Softvision in May 2019 I started the journey with an open heart and mindset, with a desire to focus on change and improvement and with an acute sense of curiosity, optimism and drive. My colleagues were awesome, supportive and I adapted to the organizational culture in a fast paced manner. The collaborative management style and organization was an excellent surprise and it felt like home.
I was impressed by the maturity of my colleagues, the consultancy expertise, and how we quickly created the premises for a healthy and sustainable growth in Timisoara. The results were impressive; one year later we managed to double the organization with a desire to continue on the path in the years to come.
As we celebrate 200 colleagues in Timisoara, I would like to thank all Softvisioners for their efforts and trust as the success we've seen as a studio is shared. I am proud to be part of Cognizant Softvision, and to stand side by side with my colleagues in Timisoara and look forward to continuing this journey focused on people, growth and quality of deliverables for our clients and partners.
How We Celebrated
Our Cognizant Softvision Timisoara studio members have bonded a lot in the past year. Half of our colleagues have known each other for years, others since the company opened its studio in Timisoara in 2012, and the new Softvisioners that have helped us double our numbers in the last year are getting acquainted quickly! 
The "newbies" have brought a fresh perspective, a lot of energy, and new ideas to our experienced team. Prior to the pandemic, we were always organizing fast paced events, like meet-ups, webinars and celebrations to spend precious time together – keeping everyone closely connected. We organized barbeques that were particularly successful as we feasted and socialized in our backyards. A few of our other activities that we celebrated together like Christmas, Women's Day, Children's Day and Halloween were really fun too. I remember one event that was especially popular –  Chocolate Day, during which we brought a chocolate fountain and hosted a chocolate tasting.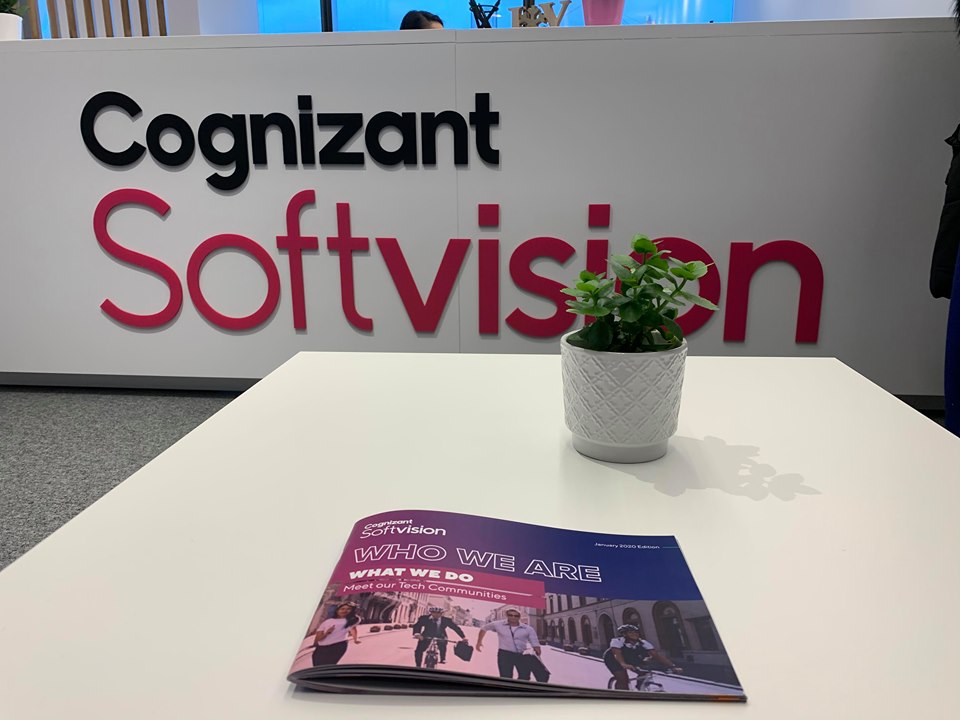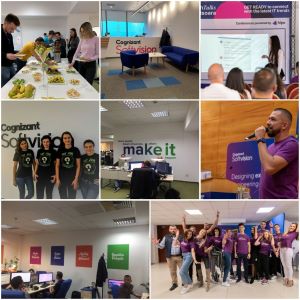 Our Timisoara team also participates in large tech events in order to stay connected to part of the local IT community and as a way to share our knowledge and expertise. We've gotten the opportunity to meet a lot of amazing professionals at events like Codecamp, RevoJS, TechTalks and other sponsored events like Angajatori de Top and Zilele Carierei. At each event we had so much fun shaking the hands of software developers that later became our colleagues. Our specialists transformed from community leaders inside the company, to technical speakers at tech events. 
A Cohesive Team 
Recently, we've had a couple of events that have made us especially proud. The first one, was the launch of our new studio in Timișoara, at United Business Center 3, Iulius Town, 7th floor. This studio allows Softvisioners to benefit from flexible spaces, with an avant-garde design and relaxation areas – stimulating their creativity and increasing their efficiency.
Secondly, this summer we reached an important milestone: 200 colleagues in our Timisoara studio. Sebastian Tonciu and Darius Muntean added to our numbers, on Monday – July 20.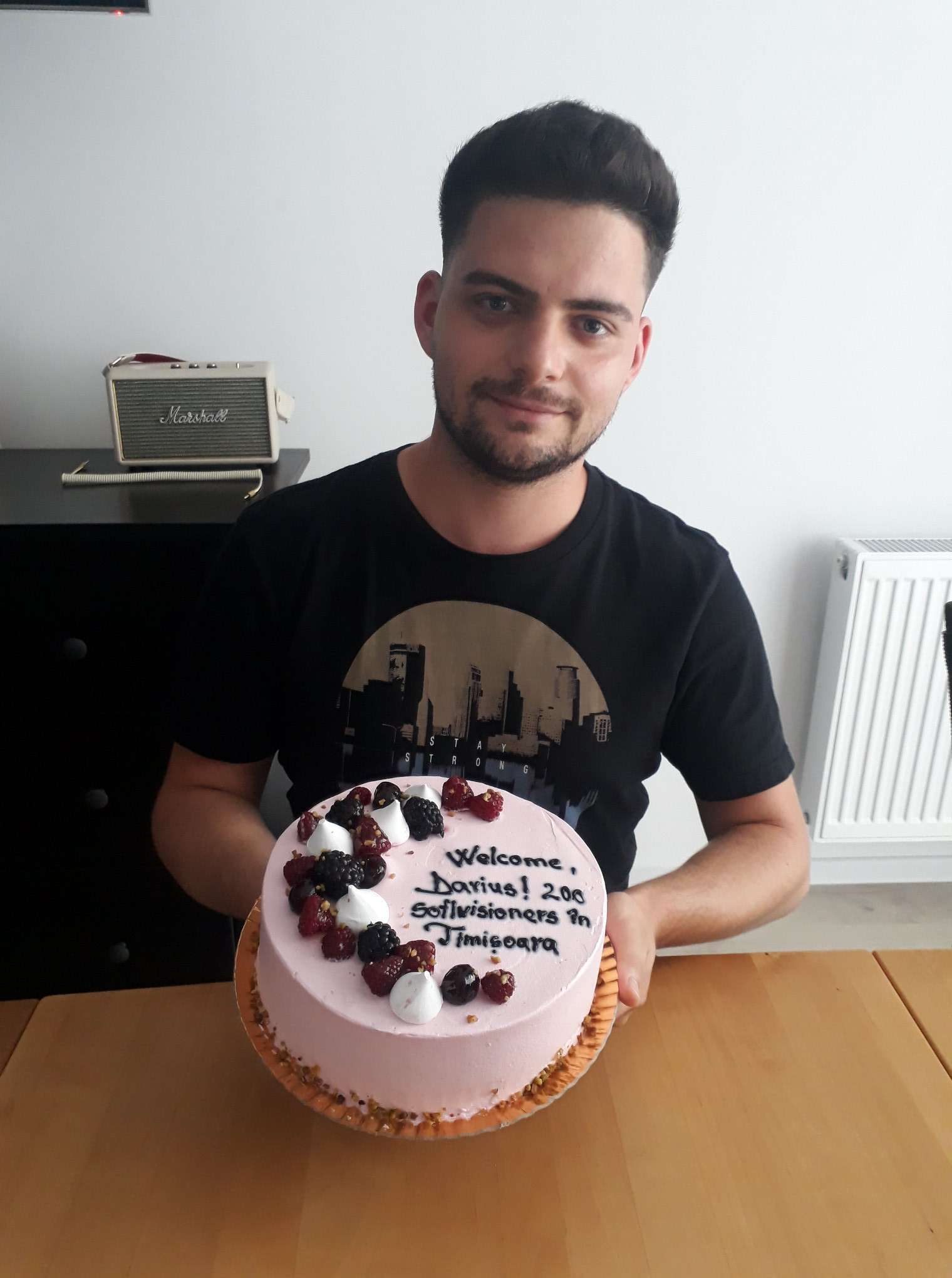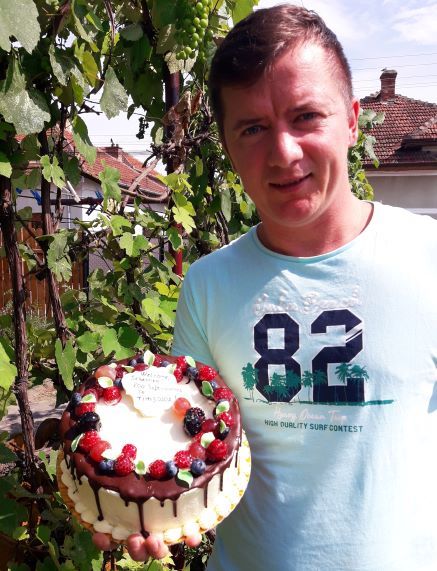 What a start to the week! We didn't get the chance to celebrate these achievements properly, by making jokes over cake and shaking our hands, but each of us, in our homes, felt the good energy. We're looking forward to connecting face-to-face! 
As we work remotely, we're staying connected by working in Virtual Pods. Read more about what a Virtual Pods is in an article by Andreea Bozesan, Delivery Manager from the Timisoara studio. Our communities meet online to discuss projects, drink coffee together and spend time sharing ideas, so no matter what happens, we're in sync and united.
Looking forward, we want to continue our enthusiasm for innovation and making our team stronger and more connected. If you want to become a Softvisioner in Timisoara find your next challenge and apply to our openings like DevOps Engineer, Ruby on Rails Engineer, Front-End Developer or Node.JS Engineer.