In March 2020, when all gathering had been canceled due to COVID-19, we began the Canvas Playground webinar series. The courses were originally scheduled to be an in-person event, but we decided to move the courses online so we could continue to stay connected, exchange knowledge and ideas, and have a little fun in the process.
A fun twist on learning
Our "Canvas Playground" webinar series focused on how to build an application based on Canvas Animations and were geared toward those with little to no experience with programming. Registrations poured in and we had over 100 participants who signed up, with the majority of them attending each session. 
The courses started on March 26th. During the eight-week series, Cognizant Softvision trainers taught participants how to build an application based on Canvas Animations, with the main focus being on programming basics, including JavaScript, OOP, Canvas, and DOM events. Attendees were engaged and entertained while they learned, as they were taught how to program in JavaScript using Canvas in a fun way – by designing and playing the classic video game, Tetris.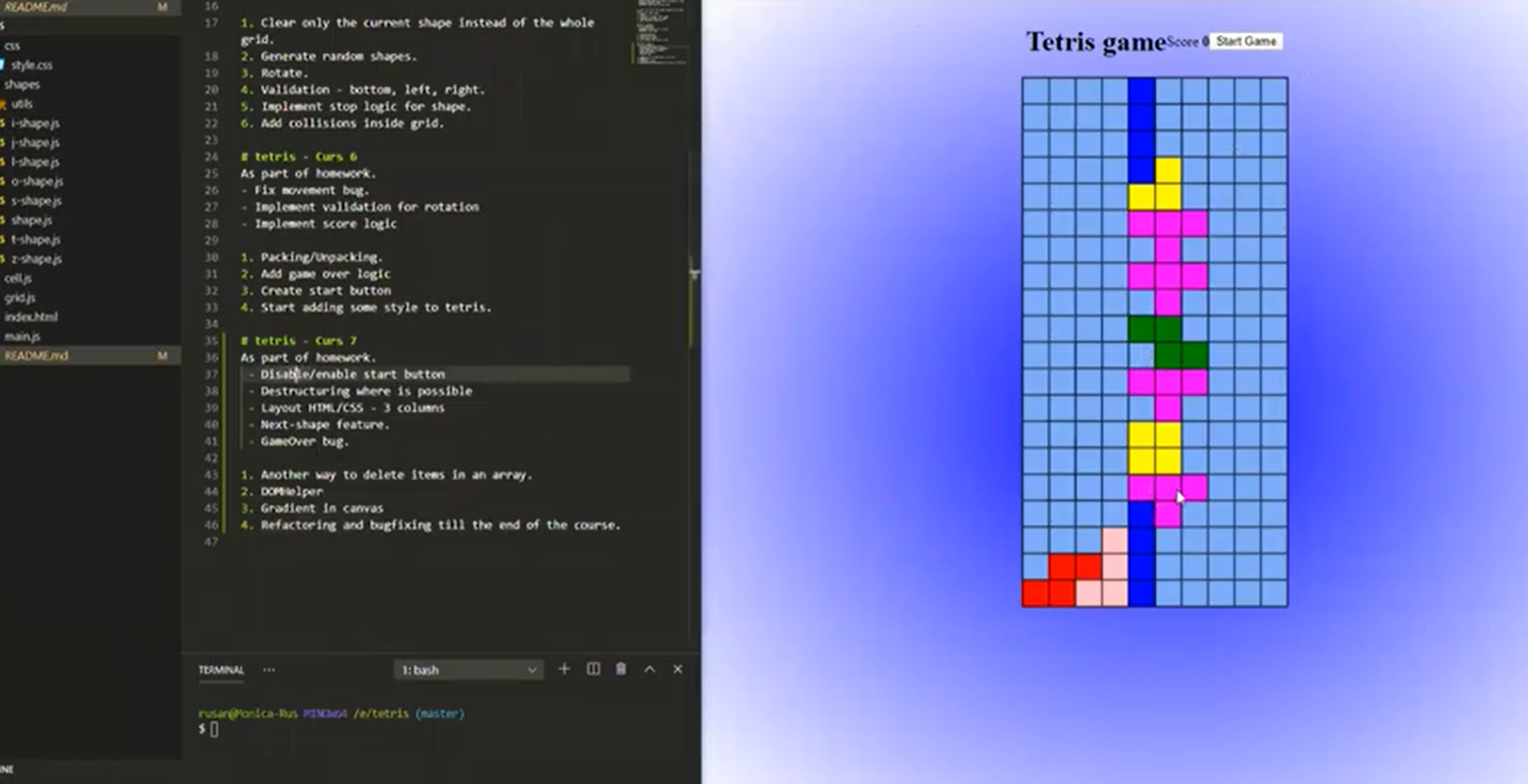 Dedication to knowledge-sharing
Cognizant Softvision has a long history of teaching courses. Softvisioners from our Baia Mare studio began teaching at the local Northern University since the studio opened in 2006. Over the years, Cognizant Softvision has led sessions on Java, .NET, PHP, Android, and JS, and later began to teach these technology courses in parallel with new sessions by trainers from the QA, Support, and DevOps communities.
Canvas Playground was set to be another course held at the local university, but when the COVID-19 pandemic forced schools and businesses to close their doors, we made it available to anyone with a computer and Internet connection.  

A word from our trainers
Our Softvisioners' determination for continuing these courses is demonstrative of their passion for their craft. They truly enjoy sharing their knowledge with others and appreciate the impact these courses have on their students. See what a few of the Cognizant Softvision Canvas Playground trainers have to say about their experience.

"I'm glad that I was part of this project, that I was able to share from my experience with the new generation of programmers. During the sessions, we played together, we learned together, and in the end, we built something nice with a very basic knowledge level of programming. Regarding the participants, I was amazed by their 'hunger' for programming, dedication, and interest in learning JavaScript from scratch. They were very involved during the entire webinar series and I liked that. And last but not least, my colleagues were very involved too in this project. They took the proper time to get things done in a professional manner– from the support provided for participants with consistent answers for their questions through preparing challenging exercises for their homework."  – Andrei Rus, Cognizant Softvision Web Engineer

"The key point here is to keep on going, as our colleagues did for the last decade. I am truly grateful for the opportunity to be part of the dedicated Cognizant Softvision team, to share the knowledge and understanding with our cherished students. 
I would have really enjoyed a project like the one developed in this course when I was at the beginning of my software development journey, and my guess is that our students and my colleagues feel the same. It is the 'hands-on' experience that attract students to these kinds of courses, the idea of 'building' something from scratch and that feeling of satisfaction after all the hard work is done.
Our students continue to surprise everyone with their involvement and evolution. It was a beautiful experience. I'd recommend to everyone involved in both development and studying."  – Andrian Bacalov, Cognizant Softvision Web Engineer
"It was a great experience for me, and it was the first time I talked to a group about programming. I was lucky to have some super professional colleagues with a lot of experience. The group was quite active, came with interesting solutions, and great questions. I would repeat this experience anytime."  – Bogdan Gheorghe Varga, Cognizant Softvision Web Engineer
What trainees are saying about the program
Both trainers and trainees alike thoroughly enjoyed their experience during the Canvas Playground webinar series. By the end of the eight-week course, participants not only gained the basic knowledge necessary to begin their journey into a career in programming but discovered their talents for building applications from scratch.  
"I learned quite a bit about JavaScript OOP and I learned how easy it is to create an interesting application. There were many things I didn't know about JavaScript before this course, and I think they will be useful to me in the future." – Schlachter Sebastian, Canvas Playground Student
We look forward to continuing our dedication to teaching, whether in-person or virtually.