Becoming Subject Matter Experts
Watch Programmers' Week 2021 Tech Talk, "SME leading in tech and culture"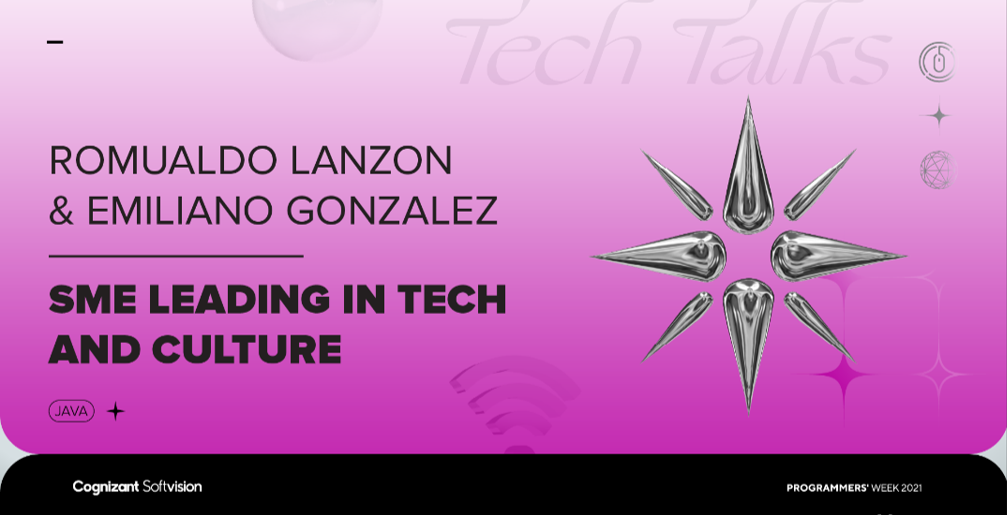 This September, Cognizant Softvision went beyond with our 7th-annual, week-long event dedicated to developers and software engineers from around the world. Programmers' Week 2021 was filled with inspiring keynotes, specially-curated tech talks and discussions, all focusing on professional development, training, industry knowledge and trending technologies. 
Romualdo Lanzon and Emiliano Gonzalez, Cognizant Softvision software architects in the .Net community took to the Programmers' Week virtual stage to share their experience with the subject matter expert (SME) program they led to help increase new and current Softvisioners' skills. 
In their talk, Romualdo and Emiliano discussed:
Cognizant Softvision's approach to digital transformation

Why the SME program was launched

The importance of providing a positive, encouraging and collaborative environment

Upskilling, re-skilling and expert skilling 

The benefits of the SME program
Romualdo revealed the main idea for the SME program journey. "We focus on the process of learning. We do not try to cover all the technologies… the idea is, you get the tools here and from here, you are part of the pod model."
Hear more from Romualdo and Emiliano and watch the full presentation here:
To learn more about Programmers' Week, click here.