Archana Atara: Bringing Her Whole Self to Work
A frontend engineer in the Ahmedabad studio, Archana is an epitome of the true spirit of Cognizant Softvision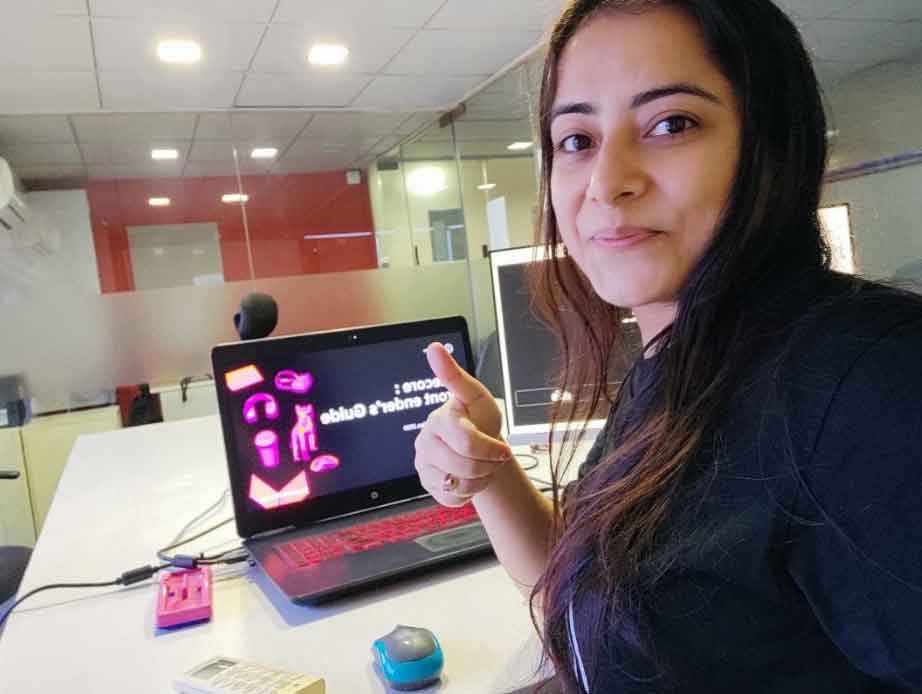 The theme of 2021 International Women's Day (IWD) is #ChooseToChallenge. It's all about challenging the status quo to create a gender equal world where women can realise their true potential with confidence. As part of our IWD celebrations at Cognizant Softvision, we proudly present to you a few of our female talents who choose to challenge themselves and deliver excellence in every walk of their life. 
In this feature, read about Archana Atara – a frontend engineer, part of our Ahmedabad studio in India. She is a blogger, tech talk presenter, food reviewer and loves to be known as a creative soul that brings her whole self to work. In a conversation with Preethi Nair, Corporate Communications Manager for Cognizant Softvision India, Archana shares her views on how she chooses to challenge all limitations and enjoy a holistic and fulfilling life at work. 
Preethi: Let's start with your journey here at Cognizant Softvision. How has been your experience so far?
Archana: I joined Arrow Digital, a West Palm Beach based digital consulting firm in 2017. I became a part of Cognizant Softvision family when Arrow was acquired by Softvision in 2018. Life here has been enriching because we have an environment that enables true talent to learn, contribute their best and leap forward in their career. 
There is never a monotonous day here because Cognizant Softvision has a way of keeping everyone engaged beyond just work with several interesting activities. 
An approachable management, transparent communications and flexible work timings make me feel a deep connection with my team and the organization. 
Preethi: Tell me about yourself – the skills you bring to the table and the projects you have worked on. 
Archana: I am an Agile certified frontend engineer and a self taught UI designer with over a decade's experience in all stages of the software/web development cycle. What helps me add value in my team and project is my strong background in project coordination and communication. Some of my core skillsets include HTML, frontend frameworks, WordPress, CSS, JavaScript/jQuery, mobile websites, and ARIA/Schema/SM management. 
I have worked with a myriad technologies and frameworks in my career and here I have been mainly leveraging Sitecore for some of our leading clients. 
Preethi: Your confidence is what one notices right away while interacting with you. So it would be interesting to hear from you on how you navigate challenges at work. 
Archana (smiles wide before replying): Yes, definitely confidence combined with the passion to deliver and achieve is what keeps me going. But to be honest, at Cognizant Softvision, my confidence is further strengthened by the support I get from my team and community. 
Every project has been challenging and a great learning curve. For instance, Sitecore was completely new for me initially. As the sole frontender in any project, I had to make crucial decisions sometimes and learn through experience. But my seniors and managers and the community helped me with the fundamentals and processes, the setup and in solving complex errors. 
In the end, my confidence comes from knowing I am giving my best and also that my team will be there for constant support and guidance. 
Preethi: Our communities are at the core of Cognizant Softvision's unique DNA. What is your experience and take on that? 
Archana: The best thing here is we have the freedom to leverage the power of technologies and deliver innovation through collaboration. 
I remember how we experimented with the 'CSS BEM' method or component based architecture for the first time and gladly it was successful. At other times, I suggested changes based on new trends and standards and they were enthusiastically welcomed. 
Our community based collaboration plays a key role in helping us learn and implement new concepts that deliver better customer experience.  
Preethi: You are an active participant at Programmers' Week and all the fun activities organized by the organization. You are also active on social media, while  making time for training and certifications. How do you manage everything with such impressive consistency?
Archana: Haha! I believe in the quote – "Making a living is not the challenge, making a life out of it is." At school, we were all taught more than one subject. Additionally, there were extra activities, workshops, project submissions, events, competitions and so much more that kept us happy.  Hence, indulging in many things is something we already know but somehow ignored it as we came out of childhood. 
We must realize our career is important and so are career boosters. Non-work activities are supplements to our individual and professional growth. 
Preethi: How are you navigating the unprecedented times we face as a result of COVID, and the work from home model?
Archana: Initially it was difficult blending work and home life from the same location: home! Gradually I learned to strike a balance. There are dull days, but my favorite activities like blogging, going for a nature walk, reading and listening to music help spice up things! I even indulge in sunbathing and yoga to replenish my mojo and stay fit and happy.  Apart from this, I invested time in short courses in Agile, PMP, Product Management, writing and blogging from Udemy. 
Preethi: What are some of the latest trends or tools in frontend development that you are excited about?

Archana: As far as frontend development is concerned, I am excited to know more about React, Angular and Vue that are top ranking frameworks. My favourite is React, developed by Facebook. React supports the concept of reusable components and stands out with its exceptional performance with virtual DOM. 
I am also interested in learning more about other powerful advanced tools such as React hooks and development tools. Other than frontend, IoT and AI are fascinating areas I would love to explore.
Preethi: It was great talking to you indeed! I would like to end our chat with a note on your core philosophy of life. 
Archana: Everything is an art, master the art. This is what inspires everything I do at work and beyond work. 
I try to make excellence a habit by loving what I do and also by creating a white space inside me filled with curiosity and the love for embracing challenges and knowledge.