Romanian Tech Talk Sessions Connects Attendees with the Latest IT Trends
Cognizant Softivisioners Andreaa Bozesan and Mihaela Pasculescu discuss Artificial Intelligence during the technology-filled event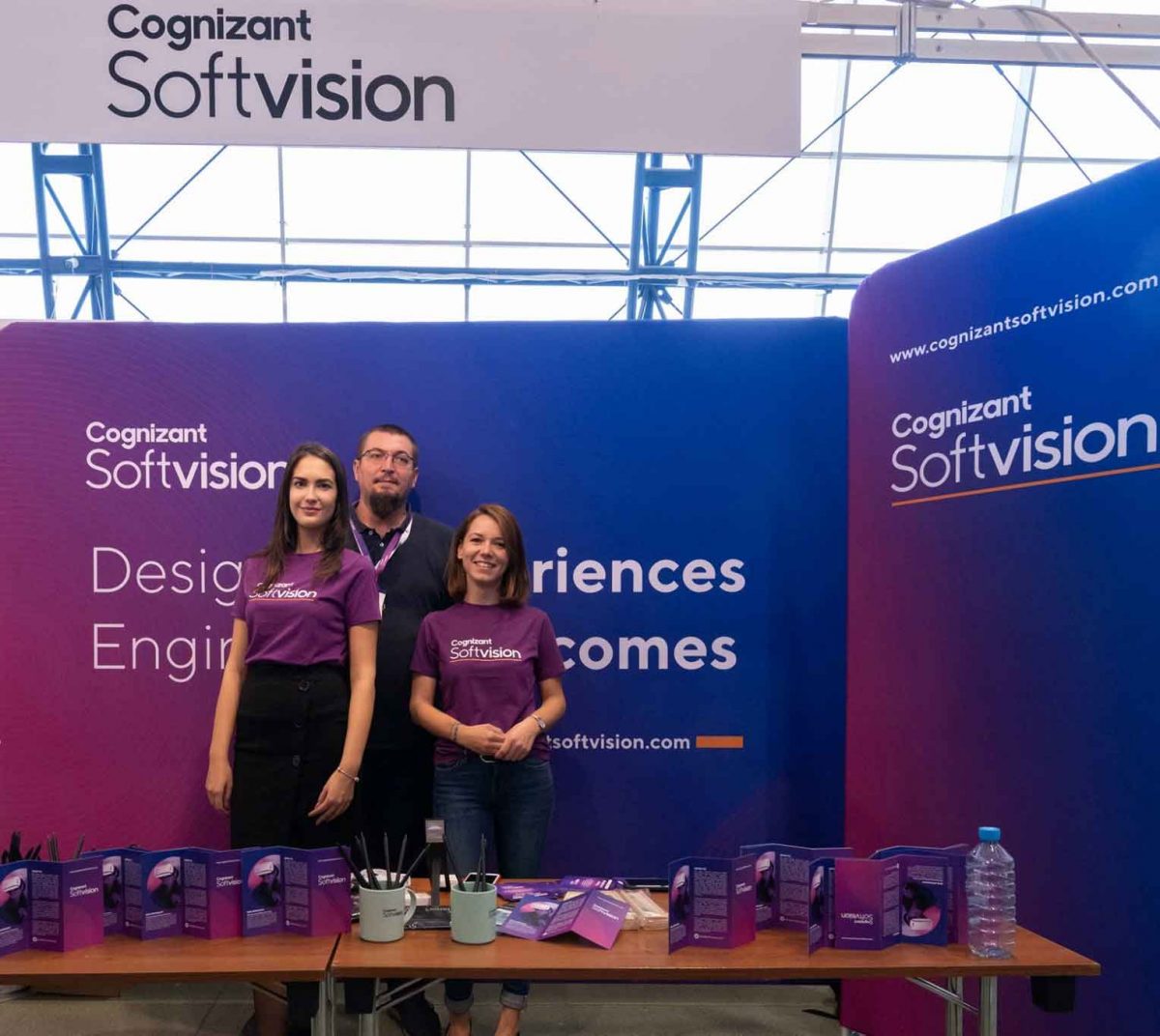 Timisoara, October 19, 2019 — Cognizant Softvision participated in Angajatori de TOP Timisoara, the Tech Talk sessions – an IT event that gathered more than 500 tech enthusiasts at the biggest city in the western part of Romania. The full day agenda included three different conferences, five IT workshops and more than 15 speakers. Two of the speakers were our colleagues from the Timisoara studio Andreea Bozesan, Delivery Manager, and Mihaela Pasculescu, Software Engineer, who presented on the topic of "Artificial Intelligence applied in real projects in Cognizant Softvision."
During their presentation, they pointed out that Cognizant Softvision is actually present in five studios throughout Romania with 1,600 employees working with the latest technologies. They also discussed the internal organization of the company, showcasing how it's organized into guilds, communities and pods. 
Lastly, they talked about the different projects the AI community develops, like mobile apps that enhance the online shopping experience using Machine Learning, or helping to detect parcels in images and chatbots that enable a way to interact with a system through an intelligent conversation. 
"I enjoyed the experience of being a speaker at Angajatori de TOP Timisoara – the Tech Talk session. I got the chance to present an overview of the AI Community we have at Cognizant Softvision and present a deeper dive into some of the projects that are developed by the Software Engineers. I felt that the presentation was well received by the attendees, as some of them wanted to keep in touch with us and learn more about the company, the AI community and about our projects," Mihaela Pasculescu said.
Attendees could also visit the Cognizant Softvision booth for a chance to learn more about job opportunities, talk with our experts and take our Tech Quiz. 
Angajatori de TOP Timisoara – the Tech Talk session – was designed for attendees to meet and share expertise and knowledge about the latest trends in IT. We're looking forward to participating again next year and hope to see you there! 
Want to join us? Subscribe to our blog and keep posted of upcoming events!