Andres Angelani on ZF – IT Generation – Romania
Cognizant Softvision CEO Featured In Romanian Publication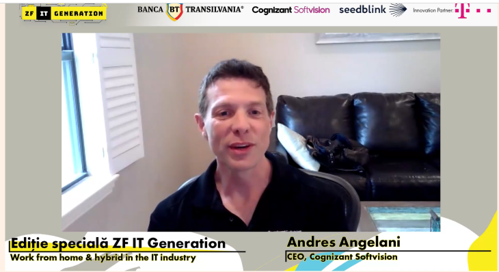 Andres Angelani, CEO of Cognizant Softvision, was featured in Romanian publication ZF IT Generation. Andres spoke at length to editor Adrian Seceleanu on the topic of "The Return to Work & Optionality," and shared his perspective on how working in a hybrid system should not only be seen as a way to reduce costs, but more importantly, as an opportunity to improve the work experience.
"The hybrid way of working allows companies to truly expand nationally, and we do hundreds of recruitments per month, because we are in a stage of significant expansion in Romania now," stated Andres. 
Andres explained that hybrid work, which exploded in the context of the pandemic, will not go away if the restrictions go away: "Yes, absolutely, working in a hybrid system is here to stay. And I believe that companies that invest and embrace hybrid systems, carefully defining how to balance work and helping employees transition between at home and in office situations will benefit greatly. Reducing time spent commuting will also reduce stress factors, and empower employees to better manage their work, their schedules, their lives. These companies will win in the market, particularly related to talent recruitment and retention. We're focused and investing in this area, and we're already seeing a strong ROI," stated Andres. 
Watch the full interview in English, and read the story in Romanian.