When I started with this thing called "Agile," it didn't exist. At a time when it was barely gaining popularity, I was asked to learn more about this "method" so I could come back and teach my internal team on the basics of being Agile. I took a class, and the rest is history – a 13-year history filled with trial and error, mistakes, pivots, strategy changes, transitions in processes and so on. I've learned much and, in the vein of always changing, learning more as I continue on the journey of my career.
As the world adjusts to the "new normal" of the pandemic, many organizations are hesitant to look toward the future – a fair point indeed – because they are still reeling from the forced adjustments made from the beginning of the crisis. But pressing unpause and continuing down the digital path requires an Agile framework to ensure there's still a future for the business world to look forward to.
A New Approach to Agile
But Agile looks different now from how it did in 2019. Working remotely in the climate of a crisis has created unimaginable stress. With pressures like childcare, health anxieties, social isolation and being plugged in much more than normal, it can seem daunting to add on additional stressors like starting or maintaining an Agile culture.
With open collaboration and iteration being key factors of Agile success, companies need to find ways to connect that work for remote workers. Recently, I was on a call with one of our virtual pods, and someone apologized for the sound of their child practicing a musical instrument in another room. My response was that apologizing for having to work from home, while your child adjusts to having to be at home isn't something I would stand for – open the door and let's hear it! Pandemic or not, the world doesn't stop.
Beyond Standups and Silver Bullets
For me, Agile is how I'm hardwired – and I'm doing everything I can to remain a guiding light for not only my team but also my clients. Something I emphasize is that having standups doesn't equate to "being Agile." It's about rethinking your interactions and encouraging your team to embrace change. So, while it's true that our processes before COVID-19 included standups, we also went beyond these 15-minute opportunities for our teams to progress forward, with training classes and iteration. Although nothing will replace face-to-face communication, we continue to follow these practices virtually, using  protocols and processes to ensure that effective communication isn't lost and barriers aren't built.
Now more than ever, getting on the path to Agile starts with understanding that it's not a silver bullet but a slow-burning fire that will fuel success. More than just buy-in from a team, it needs to be embraced by the entire company. It's about doing the little things that can help along the way to get you to the end goal instead of an unveiling of a grand finale. It's about imagining the future and then iterating on that vision until you get there. The big reveal doesn't work. Since the start of COVID-19, me and my team have practiced a mantra of sticking to the basics of Agility – to the things we know best, like being flexible and working within the environments and constraints that we have rather than using them as a blocker. A great example would be the sheer fact of connecting with our clients. To work as a team – and alongside a client that is used to face time – during a pandemic, where you are forced to be remote, can be challenging. But, as a team centered on the Agile methodology, we've gotten the opportunity to get creativite in how we connect, how we work out our blockers. We're holding bi-monthly leadership coffee talks with our client project teams. This is an opportunity where different stakeholders of the project have the opportunity to do a live QA (remotely, of course) with their delivery team. While we aren't at an office, we're still working on iterating towards our shared vision and chipping away at the things we can control. Being Agile means coming together collectively as a team with an understanding that perfection is the enemy of progress.
For the Future
By definition, to be Agile means to be flexible, to embrace change, to shift when there is a blocker. This is exactly why anyone who's worked with Agile in the past is well-suited for this unprecedented time. Sure, Agile may look a little different as most things after the pandemic will. But the necessity for it will always remain.
There isn't one industry, one business, one country, one individual that doesn't know someone or something personally affected by the ongoing crisis. With Agile in the toolbox, anyone can be up for the challenge.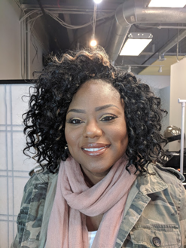 Angela Merricks is a Digital Transformation Leader in Digital Engineering at Cognizant. She joined Cognizant in early 2013 and has over 18 years of experience in leading product development and architecture in adaptive, iterative and phase-based development methods. With over 15,000 hours coaching businesses along their Agile journey and leadership development, she has worked with some of the world's largest enterprises, including several of the Top 10 Fortune 500 companies. A fixer by nature, she builds strong customer relationships by delivering customer-centric solutions.
Angela holds a master's degree in organizational leadership and is an ICF Master Certified Leadership Coach. She can be reached at Angela.Merricks@cognizant.com.