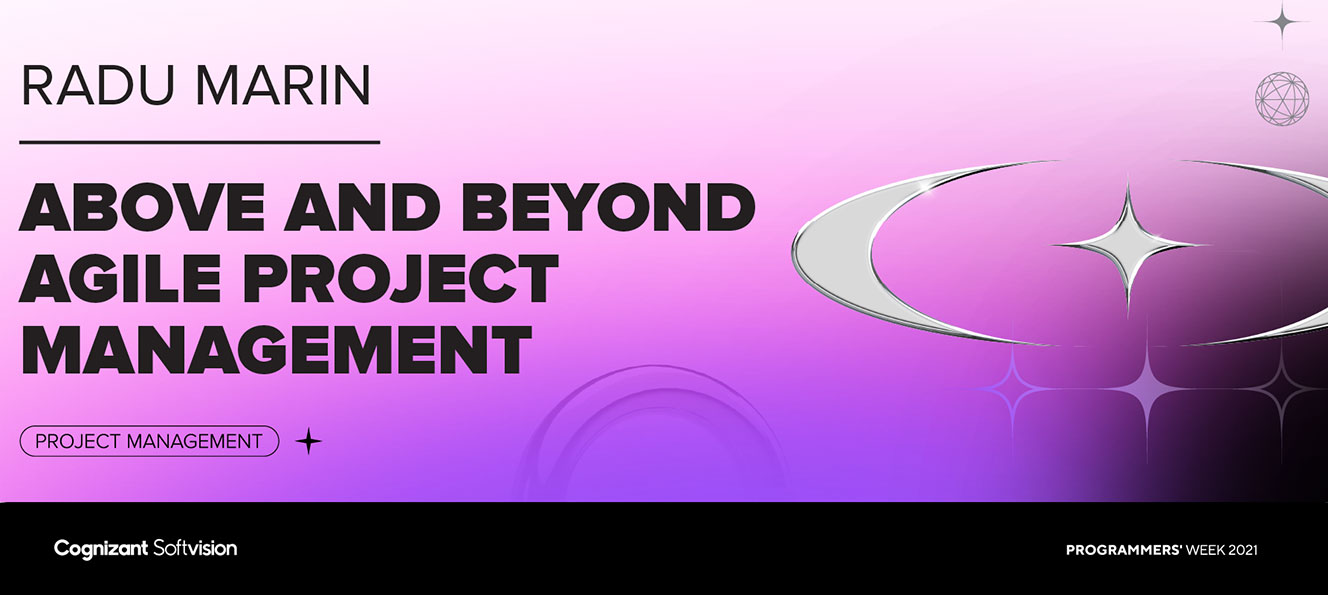 In September 2021, Cognizant Softvision went beyond with its 7th-annual, week-long event dedicated to developers and software engineers from around the world. Programmers' Week was filled with inspiring keynotes, specially-curated tech talks and discussions that focused on professional development, training, industry knowledge and trending technologies. 
Delivery Manager, Radu Marin has 12 years of management experience and serves as both mentor and coach for project managers. Radu joined the 2021 Programmers' Week lineup to discuss new ways of working in Agile Project Management.
During his presentation, Radu compared project management theory to reality, sharing how methodologies and frameworks can have various levels of effectiveness when put into practice. According to Radu, there is no singular 'right way' of doing things, as "one project will never be the same as another." 
"You will always have different people, different ways of working, but the closest you can come to a recipe for success is from all the known management frameworks," Radu said. Unfortunately, there is no "one size fits all" approach to success, according to Radu. 
Throughout his tech talk, Radu shared his insights and expertise on:
The project from start to maturity: Applied management frameworks, the role of a Scrum Master, and what it means to have an autonomous team in place

How the pandemic affected project management

Hybrid project management framework methodologies 

Analyzing the #noestimates trend
On how the pandemic changed project management, Radu discussed how the virtual working environment can impact team communication.
"No matter how much tech advances, it will never be the same. We lost the social connection…the whole body language. What we're losing in project management is seeing the way the team interacts with each other," explained Radu.
Radu also shared his thoughts on hybrid methodologies, revealing a valuable tip on how to lead your team to success.
"As long as you have consistent execution, you can say that your team is mature and already has an increased probability of success."
The long-time delivery manager left the audience with five conclusions and words of advice regarding the "#noestimates" trend. Discover what they are and watch his full presentation here: