Ana Bandas, Senior Community Manager at Cognizant Softvision has been with the company since 2012 – nine years after a recruiter reached out to her about an open .NET position. Since then, she's actively pursued mastery in the industry, growing consistently within each role and striving for excellence. In this two-part series, she looks back on her journey, taking the audience down a very informative walk down memory lane.
Growing my career also meant helping to grow the company and if that meant pushing outside my comfort zone, then I was willing to do that because in the end, growth for the company meant growth for me. 
Taking On A Speaking Role
In the quest to grow our brand in the Iasi IT market, we became partners at one of the largest conferences in Romania – Codecamp. In order to showcase our talent I was always encouraging our colleagues to be speakers at this major event. The event opened with an intro where the partners do a short presentation for an audience of over 300 people. As site manager, I presented on behalf of Softvision. 
In the next edition of Codecamp, I challenged myself to be a speaker at the conference. I selected a topic that I read a lot on and that I was interested in personally– emotional intelligence and the role it plays in being a good leader. I had so much fun working on and delivering that presentation that I decided to be a speaker in the next six editions of Codecamp that followed in Iasi. 
Every topic I've spoken on has helped me grow as a person and as a leader throughout the years: achieving happiness at work, accepting a challenge, learning to say "no," adopting a growth mindset, to name a few. I was very humbled by having a full house all the time, often recognizing faces in the audience and receiving positive feedback from people who have applied some of the things they have learned from my presentations.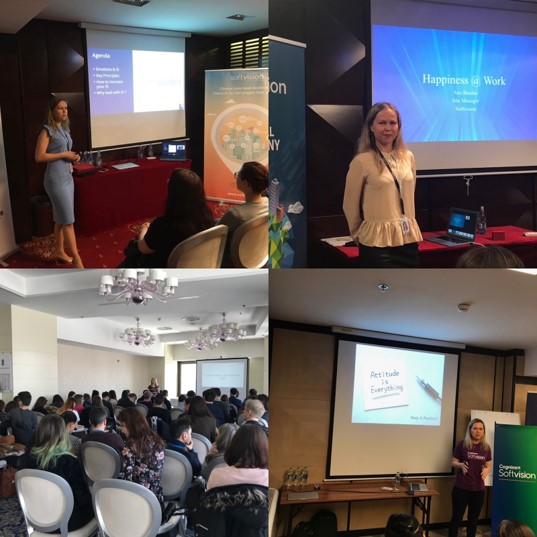 Better Together
In summer 2017 Softvision became a global company after merging with SPI. The new structure's vertical focused on delivering excellence and the horizontal was represented by the communities that focused on people and talent development. During this time, I switched to a delivery manager role and continued to grow our team in Iasi while also continuing to play my part as site manager.
Every time a client visited our Cluj studio, I was persistent in telling everyone how wonderful Iasi is and how great our teams are. I pushed to have more stakeholder meetings with our Iasi teams, as face-to-face interactions are key to strengthening relationships. When we finally scheduled a visit with one of our valued clients, I made sure everything was in order – from the administrative tasks, to the agenda, to preparing the teams for the busy schedule. 
As my team grew, I wanted to make sure that we celebrated major milestones, both in our projects in the team members' careers. When one of my team members was coming up on her five year anniversary at the company, I ordered a personalized cake for her to mark this milestone. The entire group gathered to share good memories and sweet treats. From that moment I decided to mark all future milestones in a similar way. Just a few months later, I celebrated my five year anniversary with Softvision and my team surprised me with a delicious cake.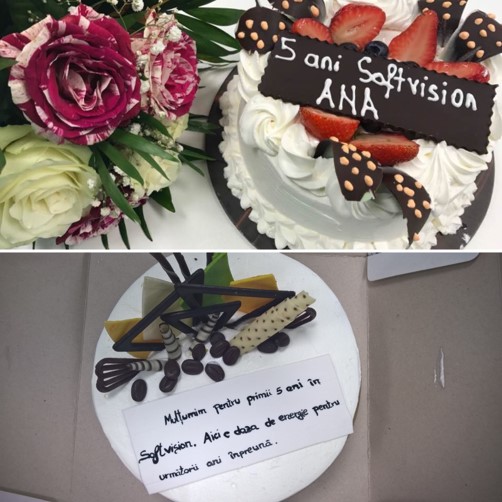 Our teams also continued celebrating our collective CSR efforts, and I was able to involve my daughter. I was always looking for ways to show her how important it is to give back and show our gratitude by helping others. I decided to involve my daughter whenever we had a CSR event, either by preparing the gifts together or by having her come along to hand out our donations herself.
As a site manager, I was not only involved in CSR and team-building activities, but the role also came with opportunities for me to grow my capabilities in handling budgets, planning events and engaging our colleagues in knowledge-sharing and fun activities. In October 2017, weWe had moved offices and spent a year in the new space, so I thought it would be a good time to hold a new open day event where we open our studio doors to the community – OctOpenDay.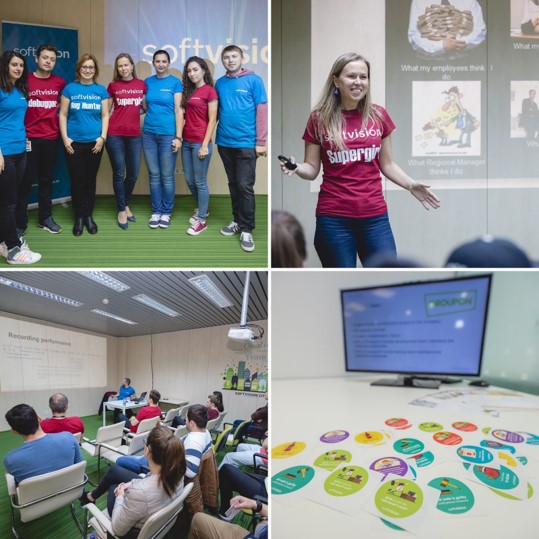 OctOpenDay was a good opportunity to showcase our communities and for the IT specialists from Iasi to learn more about us and our new organizational structure. We put together a strong lineup of speakers for technical and non-technical topics, we got creative with setting up our conference rooms so that we could accommodate our visitors for both the tech talks and the coffee breaks, we prepared welcome gift bags and held a raffle at the end of the day with some pretty cool prizes. I was very proud to see how our colleagues from across departments pitched in in order to make this event a success. This is how we become better together.
An Unforgettable Experience
Things were going smoothly at Softvision Iasi. The site was growing, we had more projects coming our way and more clients were visiting us. We started several initiatives that were coordinated by some of our colleagues to encourage knowledge-sharing activities. I loved to see how people wanted to get involved and I made sure they had my support along the way. 
After six years of working with one of our clients, I finally got the chance to take my first trip to the United States to visit our client's headquarters. I was very excited to meet with the stakeholders and plan the next steps for our projects, while also experiencing their business and culture first-hand. After a nine-hour flight I landed in Chicago and just as I was exiting the airport I found out instantly why they call it "The Windy City."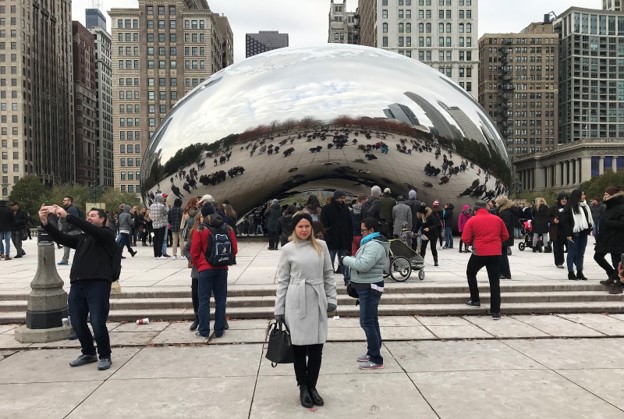 Everyone there was very welcoming and had some activities planned for me while I was there. I visited their impressive headquarters, which included a museum, an innovation room, and different office spaces throughout. I was able to spend a lot of time with the stakeholders that I had been working closely with for so many years. I was also lucky that one of my peers was there, as well, and we spent an entire day touring Chicago, seeing almost every landmark. Of course, I also purchased many souvenirs and gifts to bring home to my daughter. 
The highlight of the trip was when I spent a day with one of our client's franchisees. I got to see several of the applications that our Softvision teams have worked on in action. What a great feeling, talking directly with our end user and receiving positive feedback on the application that I knew my teams worked so hard on. I also gained new insights into what other features might help our end user in their day-to-day job. 
The entire trip was very rewarding. I gained more business knowledge, and I got to spend time in various meetings with my peers and our client's top management team. I took a lot of pictures to share with my teams back home of how our client ran their business and how our applications are used. All my work as a delivery manager led me to this memorable experience.
Welcoming Change & Celebrating Milestones
I continued to tackle two roles as delivery manager and site manager. As a delivery manager I had more projects that I was responsible for and I started to extend my teams to other studios, like Bucharest and Cluj-Napoca. It was an interesting challenge for me to manage remote teams and I constantly tried to keep in close contact with them. As a site manager I continued to get involved with different initiatives within our local IT market and share my experience to strengthen our company's brand in Iasi and continue improving my personal and professional development.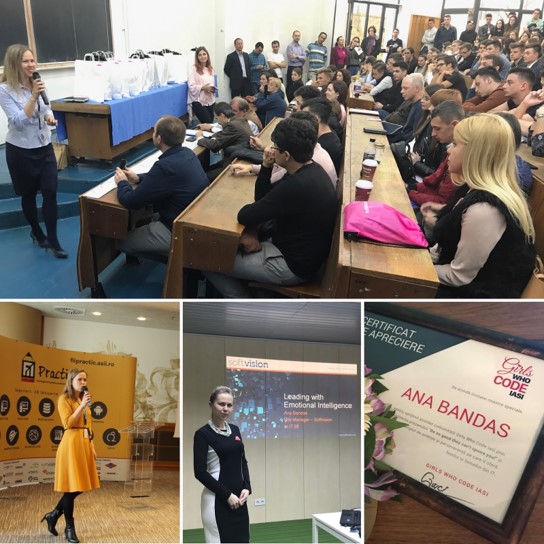 In autumn 2018 Softvision was acquired by Cognizant and we were about to enter a new era in our journey as a company. We had several visits from Cognizant that provided us with a lot of information on how they were organized, where our company would fit in and what opportunities would arise. 
For some, change can be intimidating. For me, I see change as a chance to learn something new and explore new opportunities. I endeavored to inspire my teams to adopt the same mindset. 
That December we commemorated our 20th anniversary with a big celebration in Cluj. Even after a 10-hour bus trip, most of our colleagues couldn't wait to go out and explore the city and meet with their teammates from Cluj. The following day we gathered with our peers from all across Romania. The event was spectacular and it was wonderful to celebrate this meaningful milestone together.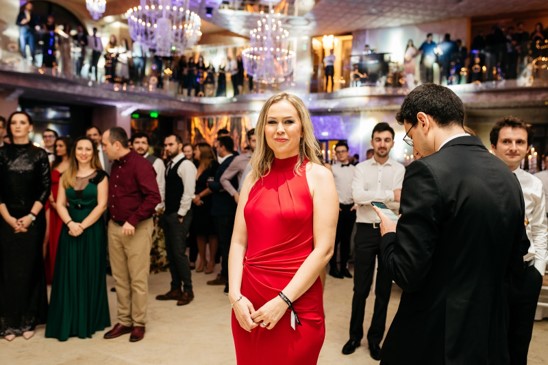 More Challenges Accepted

The following month, during another trip to visit my team members in Cluj, I had a meeting with our company's president. One of our community managers in Iasi was leaving the company and he thought that I would be a good candidate for this role. I had a difficult decision to make, as I was very emotionally attached to my teams and my client. If I was to take on the community role, I would have to leave both of my current roles behind.
I had discussions with the Head of Communities to understand more about the role and how I could help make our communities stronger. I worked with my delivery director to ensure we had a good candidate who could take over my delivery manager role and keep my teams in good hands. A new site manager would take my place so that I could be a full time community manager, and I knew that there were people that I could go for help and support when needed. 
On a personal level, I knew that I was able to handle work-family balance well. I focused on quality versus quantity when it came to spending time with my family. I made sure to be present for my daughter's activities, and everything that brought a smile to her face was worth the while. 
I was grateful to have the support of my family, and once again I said "challenge accepted!" Telling my teams from the delivery side about my transition was very difficult, but I made sure that they knew I was still around if they needed my support. I ramped up to my new role quickly, gaining the critical information I needed. I was now a Community Manager responsible for our PMO Community Romania and for the Web Community in Iasi and Bucharest.
Now I had to make a plan and set some priorities for each community that I was responsible for. I was extending my team across Romania and I had some concerns about how I would be able to connect with people outside Iasi who didn't know much about me. 
I started with my team members from Iasi, setting up some group discussions with the PMO group and the web community key members. I wanted to know what they felt was missing in their community and how I could help improve the overall community environment and their career development. I left the meetings with action items that I was going to focus on.
Over the next few months, I began to visit the other sites. My first trip was to Bucharest where I realized that I had worried for nothing. I knew some of the team members, and the site manager was very helpful and knew the people there very well. I also had a great colleague who shared his insights, challenges and joys as community manager. Cluj-Napoca and Timișoara were next on the list. During each visit I established connections with some great, passionate people and set a base for our future collaboration.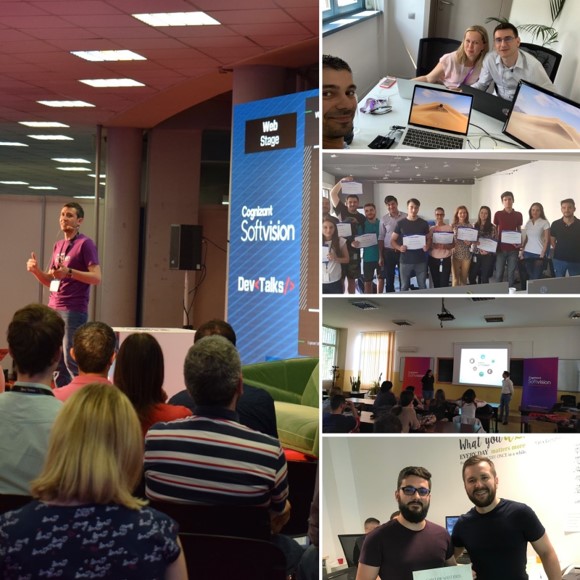 Cognizant Softvision was growing and we started to be even more present as a brand in the IT market across Romania. We attracted more talent and positioned ourselves as the place to be. We began to partner with more conferences across the country and I was always encouraging my team members to get involved in these events either as speakers, mentors, participants or helping our colleagues from HR & PR at our booth. I was also working closely with my community leads and talent specialists to find new ways to engage our members into more company activities to cultivate a strong sense of community. I started to have regular "All Hands" meetings for web community Iasi and Bucharest to showcase their great achievements and encourage others. For the PMO community I started holding monthly syncs with all the members to share group updates and discuss any issues they might have been facing. At the same time, I was focused on hiring the right talent to help us grow our community even more.
In the fall of 2019, Cognizant Softvision was planning its biggest event ever, a coding contest where hundreds of people would engage in a quest to innovate and win huge prizes. I received a call from our HR director asking me to be one of the judges at this event and I accepted without any hesitation.
The coding contest was an event like no other, with all hands on deck from all support functions and management teams. The two-day event was packed with lots of interesting ideas on the latest technology trends: Internet of Things, Machine Learning, Chatbots and AR/VR. I was very impressed with many of the projects and deliberations involved some tough discussions to agree on the winners. The coding contest was an intense but rewarding experience. We were all very happy to see what a great event we pulled off and at what scale.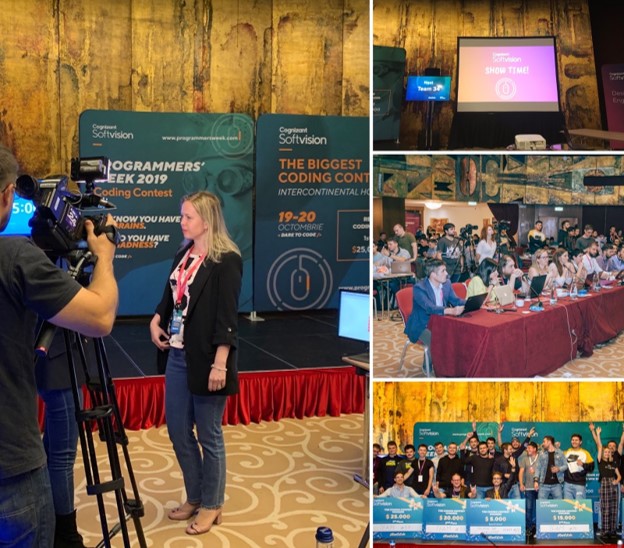 The Journey Continues
As a community manager I was involved in different client and management visits that took place mostly in our Bucharest studio. Since I could also see some of my team members, I was always making sure to plan my schedule down to the minute and make the most out of it. It was very interesting to participate in these meetings and speak with pride about our accomplishments throughout the years and what our value proposition was. I felt like a valuable member of the team and it felt good knowing I contributed to growing our talent and business. I loved my job, and I balanced business trips, evaluation sessions, and being my daughter's biggest fan at dance competitions or helping her with homework.
And then March 2020 happened. In just a few days we needed to make sure that all our teams switched safely to a fully remote environment. I felt a huge amount of pressure in the weeks that followed. I had to make sure that everyone from my community was well established. At the same time I was adjusting to a lockdown, home schooling, cooking at least three meals a day, cancelling vacations and keeping safe and sane in order to survive the pandemic. I realized that this was going to be our new normal for a while, so we moved forward.
Inside the communities we needed to move all the events that usually brought our teams together in person to an online format. For our web community, we had an All Hands meeting each quarter to go through all the events and company updates that happened across Romania. The local group meetups continued to happen with the same recurrence and we organized our traditional events at a bigger scale. 
Both of the communities that I was responsible for had grown a lot in the previous year. Business was booming and I had to stay on top of things on both fronts. I had a conversation with my manager and the HR manager and we decided it was a good time for me to focus solely on the Web Community. I was proud of what I had accomplished in the PMO Community, and I confidently handed the reins over to my colleague to develop the community even further.
A few months later, I decided to get back into speaking at events. I started with Programmers' Week, our largest annual event that was in its sixth year. I chose to speak about some of the skills and concepts that I've developed over the course of my career that I thought contributed to my journey from junior developer to senior community manager. As the 2020 event was to be held fully online, my talk was available to external participants for the first time. I was very humbled by the positive feedback I received at the end of my talk and it felt great to be back in front of an audience. 
Shortly thereafter, Cognizant Softvision was a main partner at DevCon, a major IT event in Romania. My colleagues from the PR department asked me if I wanted to join the lineup, especially since this edition had a Women in Tech track they thought would be a good fit for me. I decided to go for it and a theme came to mind soon after– self-leadership and how it can be the key to a woman's success in the tech industry. The presentation was so well received that I was asked to hold the same presentation for our Women's Guild as the first episode of a new internal initiative called Women's Wednesday.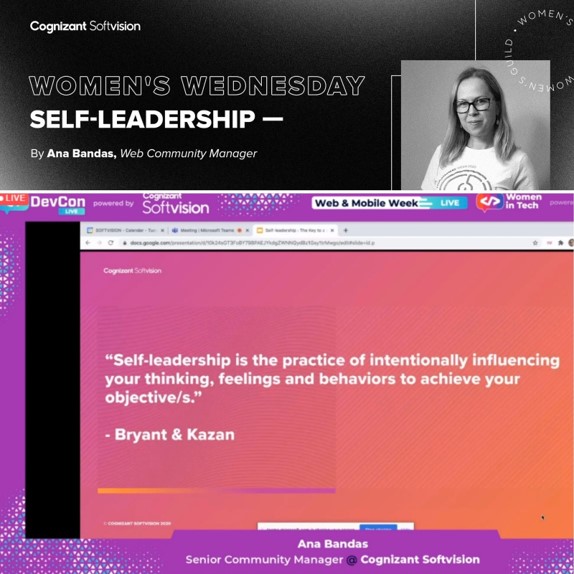 It's been an exciting journey for me so far at Cognizant Softvision. I feel very lucky to have wonderful colleagues who I can rely on, and we've become a strong leadership team. We all have good days and bad days, but at the end of the day we know we've got each other's back. I am working with strong community leads, community influencers and the best talent specialists one could hope for. Together we help our community members to find the best places to put their talents to use and provide the needed support to drive their career forward.
It's been over a year since I've last seen my team members face-to-face, since I've taken a business trip, since I've spoken in a room full of people, since I've hugged my best friends from work and enjoyed an after hours drink together. I have high hopes that I will be able to do all that again soon here at Cognizant Softvision – the place to be, now and beyond.