A Trip Down Memory Lane, Part 1
Looking back on 9 years at Cognizant Softvision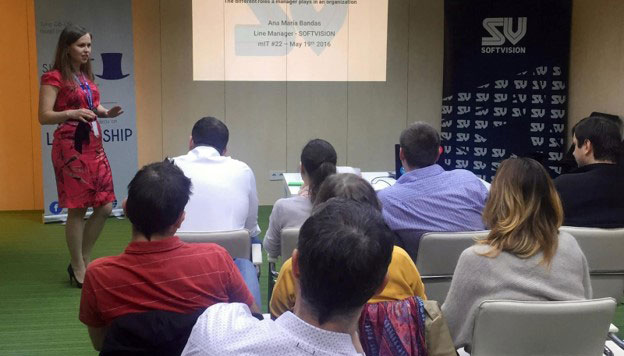 It has been over 9 years since I got the call from a recruiter inviting me to a technical interview for a .NET developer position at what was then known as Softvision. I didn't know much about the company at that time, but I decided to accept the challenge. After a technical interview and practical tests, I had a discussion with the department manager about the open position. I remember being fascinated by the professionalism and the passion with which the department manager presented the opportunity. She really cared about her team and the client.
I was very happy when I got the call from Softvision offering me the position. But I had a decision to make. I had an offer from another company and my current workplace counter offered. I would miss my current teammates, but was lacking a true mentor who would help me grow professionally. I felt that in Softvision I would have at least one, my department manager, so I took a leap of faith and joined Softvision in May of 2012. 
Good Times & Good Deeds
On my first day, I was reading over all the information I needed to get started on the project when two colleagues came to my desk to invite me to join them for lunch. Going to lunch with each other was part of the culture at Softvision, and I quickly received a lot of great and fun insights about my new workplace. 
Over the next few days I learned that I was to be the only team member in Iasi, with the rest of my team in Cluj-Napoca. I have to admit I was nervous about how this was going to go. I was asked if I could go to Cluj for three weeks to spend time with my team to get to know each other and to learn about the project and procedures. 
When I arrived at the office in Cluj, I met my teammates and learned that I was to replace one of the team members, who was leaving to join another team. After a short bout of awkwardness, we soon began joking around and quickly began discussing project plans, ramp up tasks and fun team-building activities, including an outing to the the Cluj Arena for the most important football game of the season between CFR Cluj and U Cluj. Those first fun weeks that I spent with my team set the foundation of trust. Even though my entire team was remote, I never felt that I was not part of that team.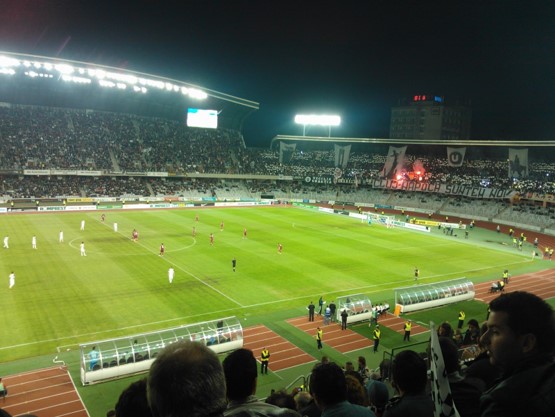 Soon enough our project manager was promoted to a line manager position and we had regular discussions about my career development and well being. I had someone to look up to, and was impressed by how she tackled client meetings and how we could trust her to always have our back.
I visited Cluj many times over the following months, where I enjoyed visits from our clients, who would come regularly to meet the teams and review the progress of the projects we were working on. We wrapped up each visit with a celebration where we were not "client and vendor," but one big team. 
Softvision times were always fun times and in Softvision Iasi was no exception. Everyone thoroughly enjoyed themselves at our team-building events and holiday parties. During my first year I started a collection of "fun diplomas" that were given out at such events– a collection which has grown a lot over the years.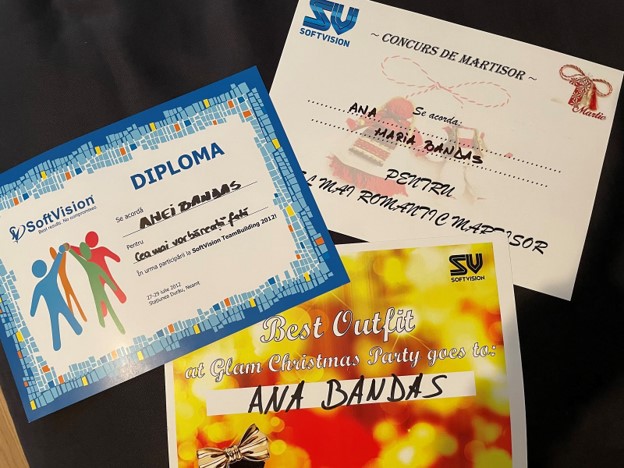 During my first year, I also got to take part in my first Corporate Social Responsibility (CSR) initiative. The initiative, called "Shoe Box," collected gifts that would fit inside a shoe box for underprivileged children in the community. The children were so grateful, and doing good never felt better. 
Throughout the years I have been involved in many CSR events, which will always hold a special place in my heart. Preparing a school bag or delivering Christmas gifts for children in need were some of my favorite activities. Seeing the kids' smiles was priceless. I was happy to be among the people who would go there personally to hand out the gifts, even though the weather was often not that friendly and the roads were bumpy.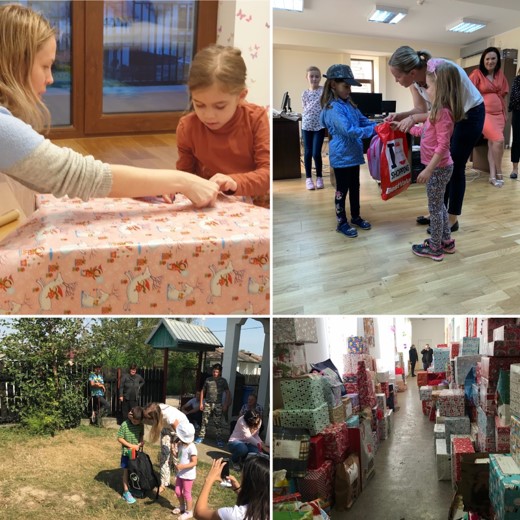 A Growing Family & Career
In early 2013, my husband and I were expecting our first child. That spring, Softvision Iasi organized the first .NET pre-employment program and I was lucky enough to be one of the four trainers. This initiative was also an opportunity for me to become a technical interviewer, as I was involved in selecting the candidates for the program. During the process, I was able to hone my speaking skills and mentorship abilities. The pre-employment program brought us two new colleagues, one of whom became my team member and mentee. Eight years later, she is still a key team member for the same client.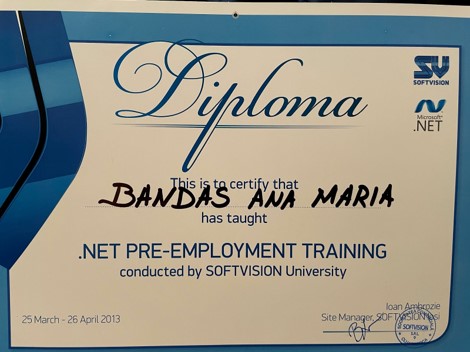 As my belly was growing, so was my career. I had more trips to Cluj, and the nine-hour travels were becoming more difficult as I progressed in my pregnancy. During one of these business trips, my manager asked me to review a presentation and prepare some additional slides regarding our application and present it in the management review meeting that would include high-level executives from the client team, as well as top Softvision management. I felt intense pressure with such an important audience, but the presentation went smoothly, and  many more presentations would come along the years to follow. 
Shortly after that trip, I was preparing to go on a six-month maternity leave. Everyone was very supportive and sent me off with well wishes and gifts for the baby.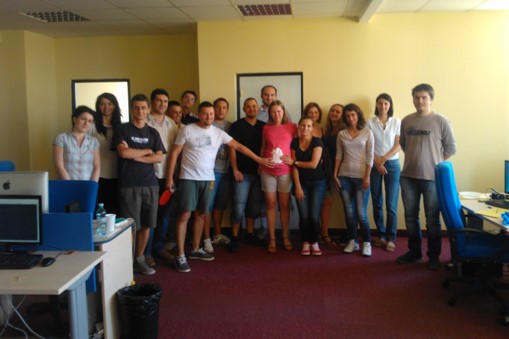 The baby came and I was a full time, full speed mom. During my maternity leave, I met my colleagues for lunch, and some even came to my baby's christening or came to visit us at home. I was able to prepare for my gradual transition back to work and found child care that gave me great peace of mind.
When it was coming time for my return, I had a call with my department manager who told me that we had plans to grow in Iasi and needed a new line manager. I was her first choice for the role. 
To transition to the managerial position, I first acted as a project manager. This time allowed me to strengthen my Agile methodology knowledge and get to know new colleagues. I returned to work full-time when my daughter turned eight months old. I was responsible for half of the people in my department from Iasi. 
Only a few weeks after coming back to work, there was a big management meeting for all the line managers, department managers and site managers from across Romania. We were to join the general manager and the president for a series of workshops and strategy meetings in Brasov. It was the first time I was going to be away from my daughter for more than a few hours, and was uneasy leaving her. But I prepared very detailed instructions and left her in the capable hands of our babysitter and my husband.
During that trip I got to meet colleagues from all over the country, many of whom I still interact with often to this day. I also got the chance to assist in my first management workshop with a certified trainer and saw experienced managers in action. I learned a great deal, including what was to be expected of me and how I would be able to grow my team and myself. That was the beginning of a beautiful journey of many more workshops and management meetings that were to come in the following years. 
The following months were not easy as I balanced the new role with my responsibilities as a mother. But I worked on connecting with my team and supporting every initiative I could, all while running home on my lunch break to nurse my daughter. I went on business trips that were wonderful opportunities, but still proved difficult for the mom in me.
I was lucky to have amazing team members, many of which I became life-long friends. All of the people in Iasi in our department became my responsibility. I was actively involved in hiring the people that would join my team, while also acting as a project manager. I put in action all the things that my former line manager did right, while adding my own personal touches. I worked really closely with the client and the stakeholders to understand their business needs and also made sure the entire team was prepared to provide the best results for our client. In true Softvision style, all of this was done, of course, while having fun. 
Mastering My Management & Leadership Skills
I wanted to be the best manager I could possibly be. I read many management and leadership books, such as "The One Minute Manager" by Ken Blenchard. It was a gift from my sister when she found out that I was going to start this path. The best takeaway from this book was the importance of giving and receiving feedback, both positive and constructive. I practiced this with my team and encouraged them to be open about giving honest feedback in order to grow and act as a team. When I noticed that people had the tendency to give only constructive feedback and overlook the positive aspects, I decided to challenge all my team members to send me what they admire about their colleagues. I distributed the positive notes on colorful pieces of paper, and was happy and a bit surprised to see the papers displayed at their desk areas or prominently placed in their agenda books. I was even more surprised when I received a beautifully illustrated page from my team members with their positive feedback for me.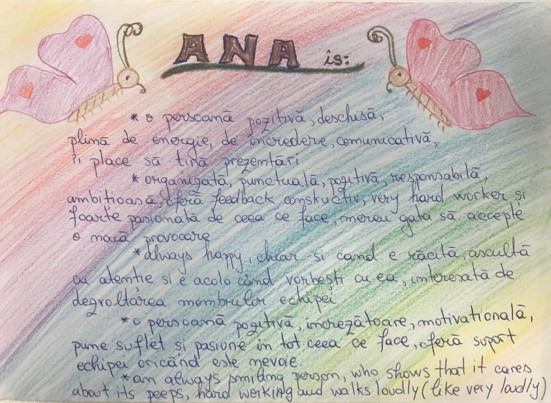 Becoming the best line manager I could be was not without challenges, of course. For one of the projects that I was responsible for, we implemented new technologies that were rather new for the client, as well. It was very difficult to introduce new technologies or new ways of implementing certain functionalities, as our client wanted to have the same types of technologies used across all the applications as much as possible. We also had to keep the end user in mind, who was very reluctant to learn new applications. 
Client visits also proved to be a difficult part of my new managerial role. I had to prepare project overviews to review at meetings in Cluj, while overseeing that the projects ran smoothly back in Iasi. The visits were intense, with me jumping from meeting to meeting, helping with the many administrative tasks and even presenting before the management board.
On one specific visit, I prepared very well for the presentation, making sure to include all the details that the client would want to see and leaving little room for questions. Afterwards, the team gathered to celebrate, and I had the opportunity to speak with the General Manager, who I hadn't had many interactions with yet. I'll never forget what he told me. He said, "Ana, I have to admit I was impressed today with your presentation. I didn't know you could speak English so well!" 
In the months that followed, we started to have a management training program every other month in Cluj. These recurrent workshops were very helpful both for me as an individual and for us as a leadership group. They strengthened our management skills and leadership capabilities, and also helped us get to know each other better, discover our strengths and weaknesses and learn how to perform best as a team. Most of us who started in that line manager group have grown over the years and now are part of the top management team in Cognizant Softvision Romania.
Making Room for Growth
The day before each workshop we had a management meeting with our general manager to discuss business updates and areas where we could improve in order to grow stronger as a group and as a company. In early 2016, at the end of one of these meetings, our general manager held me back to discuss the Softvision studio in Iasi. In a very serious tone, he said, "Ana, you stay for a few more minutes, we need to talk." Panic mode set in immediately as I wondered what it was I did wrong. 
The conversation was not a reprimand, as it turned out, but presented an opportunity. Our site manager had been promoted a few months back and we were preparing to move to a new office. Our general manager needed someone to continue to grow our location in Iasi and see how we could gain more visibility in the local IT market. I had been recommended as a good candidate for the job. Since I had a smaller group as a line manager it seemed that I could also take over the site manager role. 
I was surprised by the opportunity and had to make a tough decision. Family and work balance had to be considered, as my business trips and long hours took me away from home quite often. I struggled with feelings of guilt every time I left my young daughter. I had limited time to spend with her as it was. But with my husband's support, I took on the challenge of two roles – site manager and line manager.
One of my focuses as site manager was to find new ways to promote our brand in the local IT market. At that time there were a few local groups that were active in Iasi, so I decided to start hosting some of these groups in our new office. I also invited the management team in IT Iasi to host their May meetup in our office and volunteer as a speaker for the event. It was the first time I would present in front of an external audience. I was very nervous, but I prepared very well and chose a topic that would be very easy for me to speak about. 
I still remember that day very well. I felt a huge amount of pressure knowing that everything I did would reflect on the company's image. We had quite the turnout and the event was a success. It was the beginning of a series of events that we started to host in our Iasi studio and also the beginning for me to have more courage to speak in front of a bigger audience.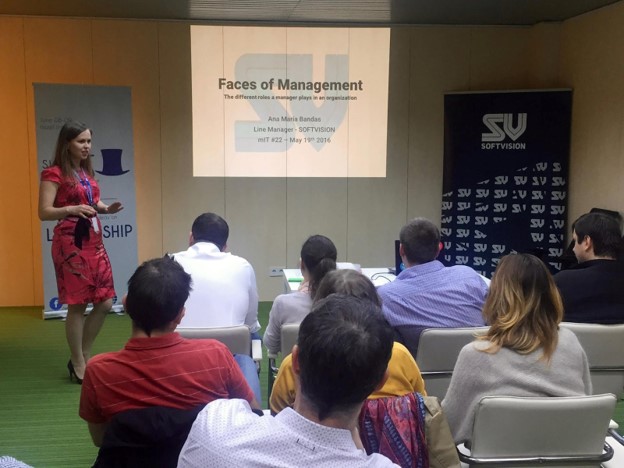 Continue walking with Ana down memory lane in part two of this series.