Regardless of the technology or the platform as a tester, it becomes equally important to learn new tools, techniques, and methodologies as you move ahead. 
As QA engineers, switching from mobile app testing to web testing can present some challenges. Andreea Boghean and Adela Pop, Cognizant Softvision QA engineers in our Cluj-Napoca studio share their story.
How everything started… a quick testimonial
Andreea: "My journey as a Software Tester started in 2015 after successfully completing a software testing course. I didn't know exactly what to expect, but being open to new challenges, I decided to give it a try, keeping the hope  that my curious nature would help me in this field… and it did.
It has been an amazing journey with so many different experiences and plenty of fruitful learnings, but after almost three years performing mostly regression testing, an opportunity presented itself.

The journey to web testing started when a web project came up, which I happily accepted. So, while everyone was saying 'mobile is the future,' I embarked on a new challenge, looking for something to take me out of my comfort zone."
Adela: "My journey as a QA started in 2019 after I decided to change my career path. For eight years I worked as an Office Assistant at Cognizant Softvision and developed an interest in the IT field.  Whether you have a completely different background or have no exposure to computer science, what you mostly need to start and grow your career as a tester is your ability to learn and good communication skills.
After being accepted to Cognizant Softvision's Training On the Job program, I learned how to test a mobile application on the Android platform. I really enjoyed working as a tester and I started exploring and discovering new things.
After a short while as a mobile tester, the COVID-19 pandemic began, and transitions led me to join the web testing crew. I saw this as a great opportunity to expand my QA expertise, but was a bit nervous about the unknown challenges ahead. In the end, having experienced, knowledgeable and supportive colleagues helped tone down any fears."  
Switching from mobile apps testing to web testing: Learnings and challenges 
Andreea and Adela both started as QA in the same project, as part of the same mobile team and then moved to the same web team, but at different times. When the two ended up as colleagues and needed to share and receive knowledge, it was an easy relationship having walked the same path. 
Stand-up meetings
As part of an agile software development team, standup meetings are a daily staple. While working on mobile testing the daily stands were only on site with QA team members discussing everyone's responsibilities and actions. 
After switching to web testing, Andreea and Adela found that one of the most challenging things was the communication with the development team, as they were not familiar with programming language.
Working on a 1-week cycle (as opposed to the 3-week cycle on a mobile team), the daily stand-ups are very important. This is the best opportunity to bond with the team, bring up blockers, projects that require collaboration or just to confirm certain things within the team. 
At the beginning, both QAs prepared status reports and potential questions and answers for the stand-up meetings. Andreea and Adela constantly worried, "What if they'll ask me something I don't know?" But with time, after becoming more confident, the stand-ups became more like a discussion with friends trying to build great things together.
Tooling
Any specific tooling is different on web testing versus mobile. Basic reporting, source management and build tools remain the same, while the rest of the tools tend to be distinct. For example, mobile apps are easier to fool using a proxy tool, while in web testing QAs mostly rely on browser tools and plugins.
Coming from mobile, Andreea and Adela missed the proxy tool that was used to run on the mobile side, which helped in manipulating requests, responses, simulating environment failures, and so much more. Mobile testing focuses on the application running locally on the device, while web testing typically deals with a remote portal. 
After a while, Andreea and Adela no longer felt the need to use a proxy server, and learned to enjoy the new tools that dealt with the creation/discovery of the testing data.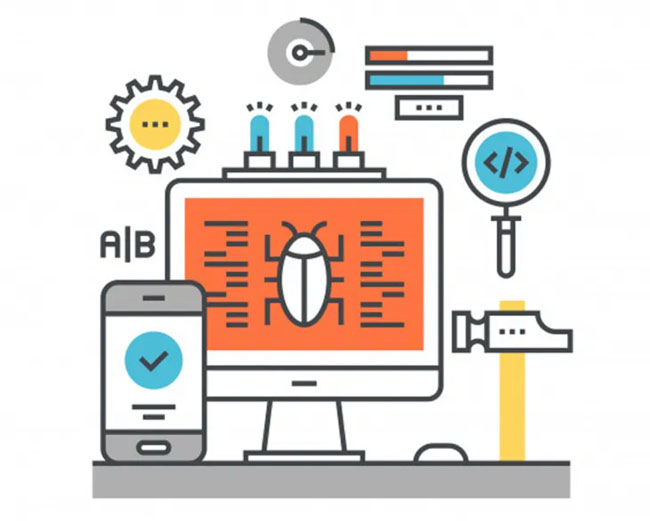 One of the most powerful tools is hidden in the browser: Inspect Element (or any "gadgets" in the browser developer tools).
With a simple right-click on any webpage, click Inspect, and you'll see the innards of that site: its source code, the images and CSS that form its design, the fonts and icons it uses, the Javascript code that powers animations, and more. You can see how long the site takes to load, how much bandwidth it used to download, and the exact color in its text.
Inspect Element is a perfect way to learn what makes the web tick, figure out what's broken on your sites, mock up what a color and font change would look like. It's a super power you never knew your browser possessed within reach. 
Processes and releases
Staying on the same project made the transition from mobile to web testing smoother. Andreea and Adela were already familiar with the business side of things and focused on learning the processes, the timeline and time/task management during the first few weeks.
There are a few key differences between mobile and web processes. On iOS, after the build is ready it is sent for review to Apple. The review can last between one to three days and, if it's approved by Apple, the application is uploaded on the App Store. Otherwise, all problems must be fixed and the application resubmitted. Considering that there is a review period, on iOS we do not allow ourselves to have serious problems dropped in Production. To fix a major issue, like a crash, the same review process can overturn the release cycle.
For Android, the process is simpler. Once the build is ready it is published directly on the store and you no longer have to go through any review process. The same process applies for mobile and desktop web. Once the user reaches the browse page, the updated version is available. Since the process is simpler on these platforms, QA engineers tend to allow themselves to make patches easier than on iOS. If there is an urgent issue, it can be fixed quickly and the new, improved version is available for the user almost immediately. 
Learning new technologies  
Mobile web testing can be challenging and tedious, thanks to the large variety of mobile devices, platforms and screen sizes. The good thing is that, in order to test on multiple devices, web testers use an emulator.
Emulators are popular for their ease of access. In a few clicks, you can test your current project inside a virtual device environment. However, this ease of access can miss some issues. Many issues will not occur on an emulator, but will be present while using real devices. For this reason it is advised to use real devices when possible. 
Coming from mobile, and iOS specifically, Andreea and Adela were under the impression that most people were using the native application. Once they got to work on web testing, they realized that a lot of people are using the browsers on their devices. 
While on desktop web, Google Chrome is by far the most used browser, followed by Safari, Edge, IE and Firefox. On mobile web, things are a little different. In the USA, Safari is the leader, followed closely by Chrome. While testing at Cognizant Softvision is done on Apple computers and since Internet Explorer and Edge are restricted to Windows operating systems, in order to test these browsers Andreea and Adela used a virtual machine. 
Another tool that allows you to go deeper into web testing (or tests websites + mobile apps) is Saucelabs, a device farming tool. It can be used for testing different combinations of browsers, devices, iOS vs Android, using emulators and all kinds of particularities that can enlarge test coverage. Saucelabs has proven very helpful for Andreea and Adela, as they haven't been able to be on-site at work with their devices for testing during the pandemic. Saucelabs has allowed them to be able to test on multiple mobile hardware.
Conclusion
It doesn't matter if you are a mobile tester, a web tester or you're not a tester at all, it's always a good idea to embrace a challenge. You must have patience and give yourself time to adapt to new environments, and you'll find that things usually fall into place if you give them time. As Adela says, "It's never too late to begin something new and it's always a good idea to keep on learning and evolving."